The Right Work, At the Right Time, By the Right People: 2021 Conservation Partner Award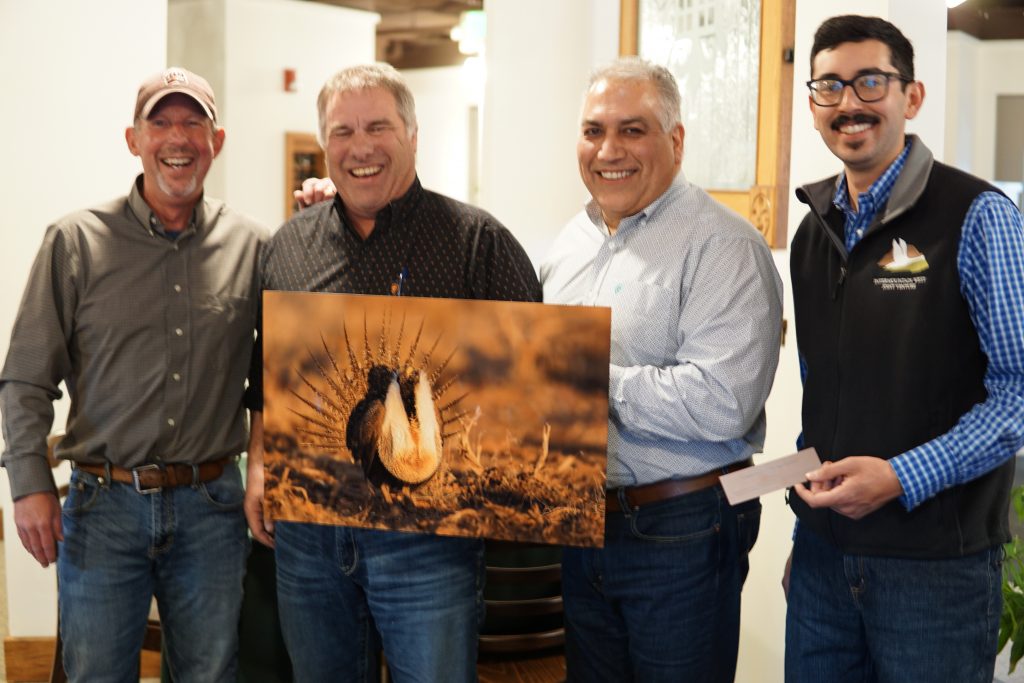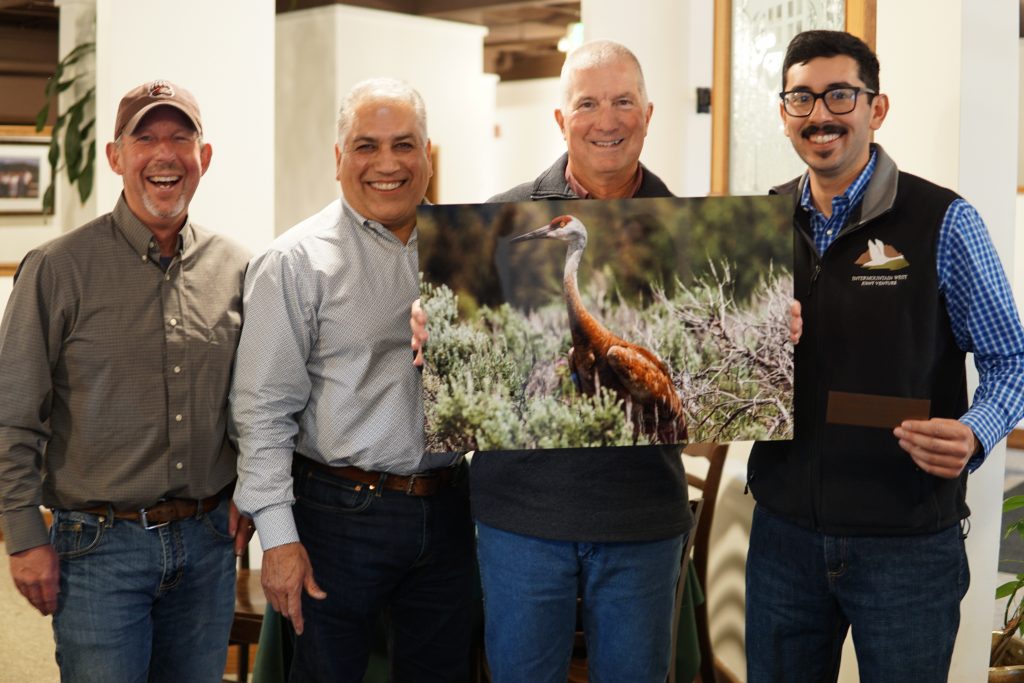 Left: Dave Smith, Jay Gibbs (holding image), Ron Alvarado, and Ed Contreras at the Spring 2022 IWJV Management Board Meeting in Boise, ID. Right: Dave Smith, Ron Alvarado, Kevin Conroy (holding image), and Ed Contreras at the Spring 2022 IWJV Management Board Meeting in Boise, ID.
Throughout their careers, Jay Gibbs and Kevin Conroy have been instrumental in the development and success of the Oregon Natural Resources Conservation Service (NRCS) Innovative and Strategic Approach to Conservation. As Oregon NRCS Basin Team Leaders, both Gibbs and Conroy contributed to the strategic and administrative leadership for NRCS operations in their respective basins (Gibbs focused on the John Day and Snake River Basins and Conroy focused on the High Desert and Deschutes Basins). Although each had different geographic areas of responsibility, they worked in tandem across eastern Oregon's landscapes to recognize emerging issues, build key partnerships, and collaborate on impactful strategies that turned ideas into on-the-ground action.
This in and of itself would earn Gibbs and Conroy the Intermountain West Joint Venture (IWJV's) 2021 Conservation Partner Award, but their work as Basin Team Leaders goes much further. Together, they collaborated with multiple federal, state, and local partners to implement Oregon's portion of the Sage Grouse Initiative. Under their leadership from 2010 to 2018, 516,926 acres of conservation practices were applied addressing threats to sage grouse on priority private lands.
Conroy and Gibbs were also catalysts in the development of the Southern Oregon and Northeastern California (SONEC) Working Wet Meadows Initiative (WWMI). With their guidance and leadership, the concept was brought to life as a private land habitat conservation delivery program under Oregon's Strategic Approach to Conservation. Before the SONEC WWMI was developed in 2014, few funding mechanisms existed for private land habitat conservation in the region.
"Conroy recognized an opportunity in using the IWJV's biological planning to build a strategic private lands conservation program that met the needs of ag producers and wildlife," said Ed Contreras, SONEC Coordinator for the IWJV. "In addition, Conroy and Gibbs supported IWJV science that has built our understanding of wetland dynamics and long-term surface water trends across the West."
Thanks to Conroy and Gibbs' help, the WWMI has enhanced over 25,000 acres of flood-irrigated wet meadows on private lands in eastern Oregon that sustain continental populations of waterbirds.
Furthermore, the two have been instrumental in bringing the Regional Conservation Partnership Program (RCPP) to the areas in Oregon where the IWJV works. Gibbs and Conroy's skill at working at the RCPP interface supported NRCS partners throughout the IWJV area in designing projects that leverage the power of collaboration with federal resources.
Ron Alvarado, Oregon NRCS State Conservationist and IWJV Management Board member, nominated Conroy and Gibbs for the award, saying that their methods resulted in the implementation of the right work at the right time, led by the right people.
"Each took it upon themselves to understand the key factors of culture, socio-economics, and working lands as they overlaid conservation initiatives," he said. "USDA Farm Bill funding opportunities were able to be used efficiently and effectively only through Jay and Kevin's instrumental role in representing NRCS in the greater conservation community across eastern Oregon."