A Final Puzzle Piece: Completing Montana's Smith Lake Wetland Complex
A solitary Sandhill crane lifts off the perimeter of a spring-greened wetland with a few indignant calls and flaps southward. A passel of conservation partners watch the bird's flight from the north end of Smith Lake Waterfowl Production Area and discuss the incredible migratory bird value of this place, and the need to conserve it from encroaching development. Cinnamon teal scoot through the shallows, and redheads bob further out. A sora calls from somewhere within the cattails, and a mountain bluebird flashes past in route to the nearby uplands.

The Smith Lake wetland complex of northwestern Montana is a 1,600-acre block of conservation lands that includes the Smith Lake Waterfowl Production Area (WPA) and private lands with conservation easements held by Flathead Land Trust, Montana Land Reliance, and the Natural Resources Conservation Service.

"Many partners have come together to help make this project a possibility," said Laura Katzman of Flathead Land Trust. "This includes the Baer Family, Intermountain West Joint Venture, Montana Fish, Wildlife and Parks (FWP), the American Bird Conservancy, Flathead Audubon, volunteer citizen scientists, and the U.S. Fish and Wildlife Service. There has also been great support from Flathead Lakers and other Flathead River to Lake Initiative partners.

The protection of the Smith Lake wetland complex is almost complete. The Baer Family owns property that forms the northern border to these wetlands (see Map 1), and they are ready to establish permanent protection of this land with the help of Flathead Land Trust. The Baer Family would like to see half of their 257-acre property added to the Smith Lake WPA and the other half put into a conservation easement. The challenge is that this important puzzle piece can only be put into place if funding can be secured to complete the easement. The Flathead Land Trust is currently pursuing this funding through a North American Wetlands Conservation Act (NAWCA) Standard Grant.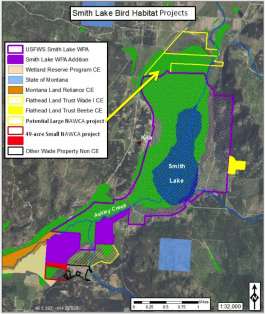 "Most of the Smith Valley is a giant wetland that annually soaks up the melting snow's runoff from the Salish Mountains," said Gael Bissell from Montana FWP. "From the moment the ice breaks up along the shoreline of Smith Lake, thousands of spring migratory waterfowl take advantage of food sources there."

As the waters rise and flood the cattails, bulrush, and adjoining haylands, these habitats attract an influx of migratory shorebirds. The Smith Valley wetlands also support a rookery of Great blue heron and nesting habitat for the elusive American bittern and Virginia rail, as well as the less common black tern. By the end of May, many neotropical flycatchers and warblers can be heard singing within the wet areas.

From many parts of this valley you can see Glacier National Park or Flathead Lake, the largest natural freshwater lake west of the Mississippi River. In addition, the Flathead River has created a fertile floodplain. Therefore, farms, ranches, year-round residences, and hobby homes sprout across the valley bottom. Anyone would love a piece of this beautiful place, making development, particularly along wetlands and farmlands, the greatest conservation threat.

Wetlands of the Flathead Valley such as Smith Lake provide crucial feeding stopover places to fuel birds in their epic migration journey. These places continue to support birds while other parts of the country suffer from even more rampant development and land conversion. It is easy to imagine what would happen if the Baer Family sold their land to a developer, instead of working to protect it with the Flathead Land Trust.

"We are excited to be able to play a role in the protection of such an important wetland complex used by thousands of migratory birds each year," Katzman said. "If funded, this project will maintain crucial wildlife habitat and beautiful scenery people enjoy while traveling on Highway 2 and the Rails to Trails bike path along the Baer property for generations to come."