Bi-State Local Area Working Group Collaborates for Conservation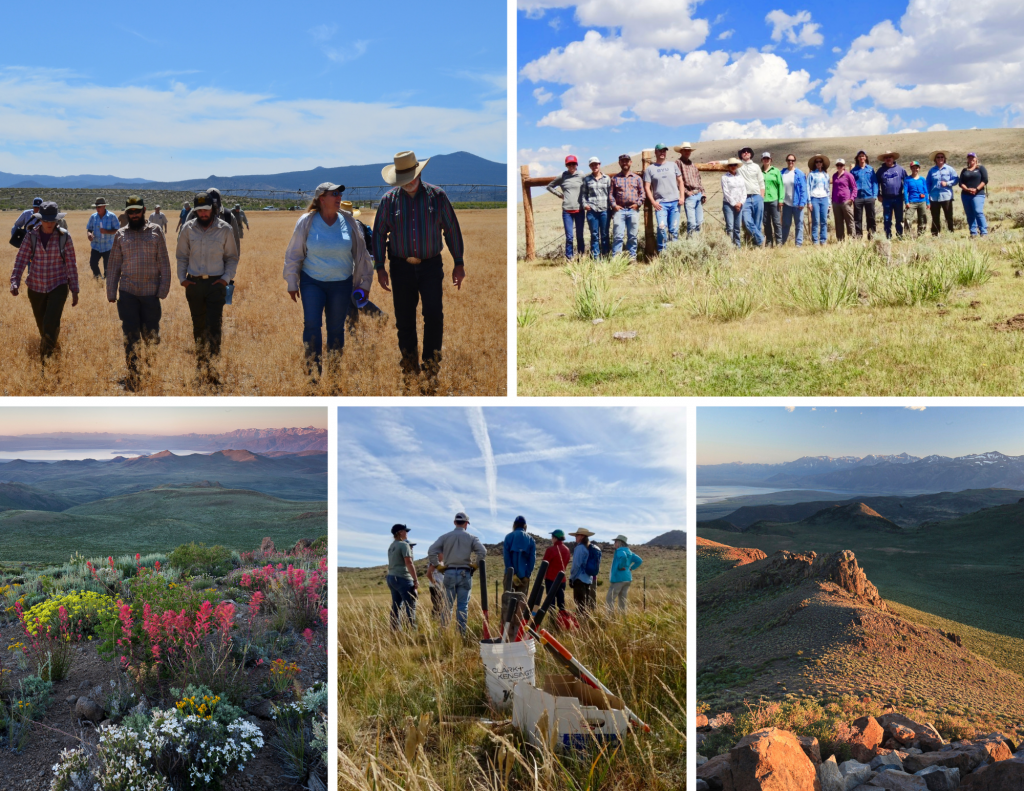 East of the Sierra Nevada mountain range, along the Nevada-California state border, exists a wide expanse of sagebrush sea that is home to a geographically isolated and genetically distinct population of sage-grouse known as the Bi-State sage-grouse. Nearly two decades ago, concerned stakeholders realized this population's isolation from other Greater sage-grouse populations could leave them vulnerable and at higher risk of population declines. In response, a forward-thinking group of people representing federal, state, and local government agencies, Tribes, nonprofit organizations, and private landowners came together in 2002 to form the Bi-State Local Area Working Group (Bi-State LAWG). They agreed to work across jurisdictional boundaries and through value differences to improve sagebrush ecosystem health and benefit sage-grouse populations in an area known as the Bi-State, on the California-Nevada border. 
The Bi-State LAWG is a successful model for local, collaborative, science-based conservation. Each stakeholder involved in the Bi-State LAWG has a role in Action Plan implementation and the success of Bi-State sage-grouse conservation efforts.
Federal land management agencies manage 89% of suitable sage-grouse habitat in the Bi-State area. These agencies work to adhere to and improve regulatory measures to ensure potential threats are mitigated and best management practices for sage-grouse are employed. Each year, federal agency partners implement Action Plan projects to address identified threats to sage-grouse, including conifer treatment, meadow restoration, invasive species removal, and infrastructure modification projects to improve habitat conditions and to ensure sage-grouse population success.
California and Nevada state wildlife agencies are charged with managing sage-grouse populations. However, both agencies go well beyond that mission and are involved not only in population monitoring efforts but conservation easement assistance, and conservation project funding and implementation as well. The California Department of Fish and Wildlife has been collecting lek data to monitor population trends in California since 1953. The agency has also played an integral role in the Parker Meadow translocation effort that has bolstered the sage-grouse numbers and increased genetic diversity in the South Mono population management unit. The Nevada Department of Wildlife has implemented numerous projects outlined in the Action Plan including mesic resource restoration, post-fire restoration, and invasive species removal. Additionally, the Nevada agency organizes vegetation monitoring efforts across the Bi-State in both California and Nevada to help understand sagebrush habitat conditions and to determine the effectiveness of completed conservation actions such as conifer treatment and post-fire restoration efforts.
The US Geological Survey has been responsible for the bulk of on-the-ground population monitoring including sage-grouse capture, vital rate data collection, and demographic monitoring. Additionally, the USGS has produced numerous scientific tools and products that have informed sage-grouse conservation efforts in the Bi-State. Those tools and products include spatially-explicit resource selection function maps that predict the seasonal probability of occurrence of sage-grouse, an Integrated Population Model that uses Bayesian statistics to integrate demographic and survey data to generate estimates of population growth, and a Conservation Planning Tool that measures ecological benefits to sage‐grouse for a given management action. These tools help the Bi-State LAWG prioritize conservation efforts in areas that will provide the most benefit to sage-grouse.
The US Fish & Wildlife Service works with partners to compile completed conservation accomplishments, understand the effectiveness of implementation to benefit Bi-State sage-grouse populations, and uses the best available science to make Endangered Species Act listing decisions.
Mono County has incorporated sage-grouse best management practices and conservation guidance into their County Plan. They have also worked to leverage funding to close and relocate the Mono County landfill to increase habitat availability and decrease threats associated with raven predation.
The Natural Resource Conservation Service (NRCS) works to proactively conserve and restore the unique rangeland resources in the Bi-State area. These working lands not only provide an important agricultural base for local families and rural communities but also provide habitat for Bi-State sage-grouse. NRCS's investments in this landscape have been substantial and focused on addressing large-scale landscape threats to mutually benefit both people and sage-grouse.
The Bi-State Tribal Natural Resource Committee (BTNRC) is made up of official Tribal representatives, individual Tribal members, and representatives of the land and wildlife management agency units. This group aims to promote, protect, and preserve good management of lands in the Bi-State through advocacy and education. The BTNRC has been instrumental in facilitating communication between Tribes and land management agencies. They provide Tribal Consultation regarding proposed Bi-State conservation actions and share important information through traditional ecological knowledge of sage-grouse populations and the sagebrush ecosystem.
Nonprofit organizations in the Bi-State area work to complete a wide variety of tasks that range from improving environmental policy to assisting private landowners in acquiring conservation easements and completing habitat improvement projects on private lands. The Eastern Sierra Land Trust, for example, spearheaded a funding request through the USDA's Regional Conservation Partnership Program that created an $8 million fund to support sage-grouse conservation efforts on privately owned lands. Friends of the Inyo works to address environmental policy issues affecting sage-grouse and holds public stewardship days to further educate and engage the public in sage-grouse conservation efforts.
Private landowners have been instrumental in protecting sage-grouse populations in the Bi- State area. While only 11 percent of land in the Bi-State area is privately owned, ranchers and landowners have been actively engaged in this conservation effort every step of the way. They enter into voluntary agreements like conservation easements, complete conservation projects on their land to improve sage-grouse habitat conditions, and share local knowledge of sage-grouse populations and habitat use to plan and prioritize ongoing conservation efforts.
The group provides space for everyone to bring their expertise to the table and in a truly collaborative fashion—no partner would ever jump to champion their own accomplishments, instead pointing to the success of the group as a whole, each entity playing a crucial role.
The hard work and dedication of this collaborative have led to a better scientific understanding of sage grouse populations in California and Nevada. It has also improved habitat conditions on more than 100,000 acres and prevented Bi-State sage-grouse from landing a spot on the endangered species list. Their success illustrates that long-held and time-tested relationships built around trust and cooperation are essential to attaining the goal of long-term species conservation. Read more about the Bi-State collaborative in this case study produced by the IWJV. 
The Bi-State LAWG was nominated for the 2020 Conservation Partnership Award by Amy Sturgill, the Bi-State Local Area Working Group Coordinator.
We hope to continue our tradition of recognizing award winners in person in conjunction with future IWJV Management Board Meetings or partner-hosted events. Watch our e-newsletter for award presentation photos.