The IWJV's vision: An Intermountain West where people, birds, and other wildlife thrive.
The IWJV philosophy can simply be described as a deep recognition that people are fundamental to the story of conservation in the West. People dedicated to working lands, both public and private, compose a huge part of our organizational landscape and are core to our everyday functions. Keystone tenets of the IWJV include finding common ground with others, using science to build durable conservation accomplishments with multiple benefits, and strengthening conservation through a lens of relevancy to people.
The IWJV focuses on wetlands and the waters that support them, sagebrush ecosystems, and forests, habitats that collectively encompass the majority of the Intermountain West and support a multitude of bird species. These habitats need collaborative conservation efforts to address their pressing threats: wetlands are drying; sagebrush ecosystems are being impacted by invasive annual grasses, encroaching conifers, and large-scale wildfires; and forests have degraded structure and function contributing to larger and more severe fires. Our approach to this work will stay consistent: commitment to working lands and the people who steward them, and support of land management practices that sustain bird habitat in a voluntary, non-regulatory manner.
Investments in Natural Infrastructure to Address Climate Change
As climate change continues to reduce snowpack, alter the timing of snowmelt and peak flows, increase the frequency and duration of droughts, and alter fire regimes in the Intermountain West, innovative climate solutions that support the resilience of wildlife habitat and human communities are needed. The wetlands, sagebrush rangelands, and forests of the Intermountain West provide the natural infrastructure necessary to mitigate and adapt to the effects of climate change by sequestering carbon, providing resilient water supplies, and supporting rural livelihoods in frontline communities.
Wet meadows on irrigated agricultural lands comprise 61 percent of the wetland habitat in snowpack-driven, closed-basin systems of the Intermountain West. These lands provide vital habitat for migratory birds, sustain floodplain function, and recharge aquifers, but are at risk of fragmentation from rural subdivision, competing water demands, and the ongoing impacts of climate change.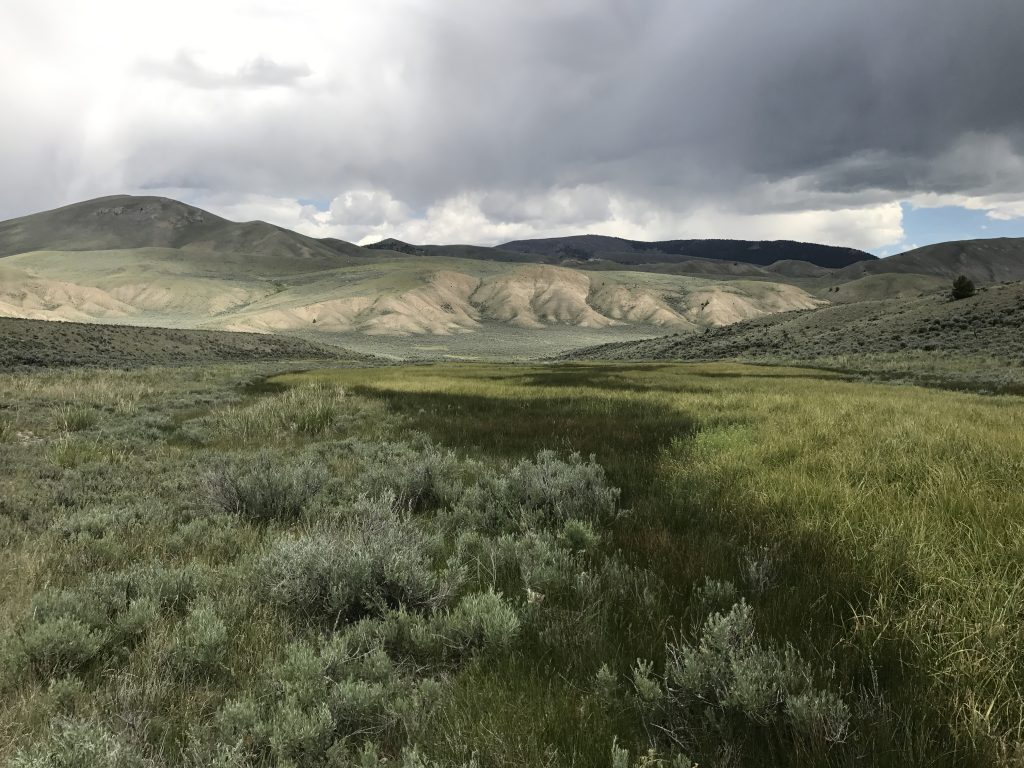 Millions of acres of sagebrush rangelands are vulnerable to catastrophic wildfire, annual invasives like cheatgrass, and conifer encroachment—exacerbated by the impacts of climate change. These threats are the primary drivers of the loss of 1.3 million acres per year of sagebrush rangelands, with consequences to sagebrush obligates like Greater Sage-grouse and myriad ecosystem services.

The diverse forests of the Intermountain West range from arid, pinyon-juniper woodlands to moist, mixed conifer forests. These important ecosystems provide wildlife habitat, serve as the source of the majority of the region's freshwater, and sequester tremendous amounts of carbon. Changes in forest structure due to fire suppression, use patterns, and the ensuing changes in fire regimes are threatening many of the ecosystem services forests provide and are contributing to the decline of western forest birds.
The Role of the IWJV in Strategic Working Lands Conservation
The most effective large-landscape scale conservation efforts involve voluntary, collaborative approaches across jurisdictional boundaries and scales through working lands conservation. The partnership approach needs to go hand-in-hand with the federal funding available through the Inflation Reduction Act (IRA) and the Bipartisan Infrastructure Law (BIL).