Celebrating TWO Conservation Partner(ship) Awards
One of the IWJV's most competitive awards recognizes and honors an individual, a group of partners, or a collaborative effort that has made outstanding contributions to a project or initiative and has played an instrumental role in advancing strategic, landscape-scale habitat conservation. This year we are so excited to award both a group as well as an individual with our Conservation Partnership/Partner Award.
The following Idahoans make up an incredibly diligent and innovative team that is dramatically improving rangeland conditions throughout vast portions of the Owyhee Mountains. Please join us in congratulating the following partners for being recognized with our Conservation Partnership Award:
Connor White, Pheasants Forever/Bureau of Land Management 

Josh Uriarte, Idaho Governor's Office of Species Conservation

Alex Webb, U.S. Fish and Wildlife Service 

Josh White, U.S. Fish and Wildlife Service 

Zack Foster, Idaho Department of Lands 

Tate Walters, USDA Natural Resources Conservation Service 

Chris Yarbrough,  Idaho Department of Fish and Game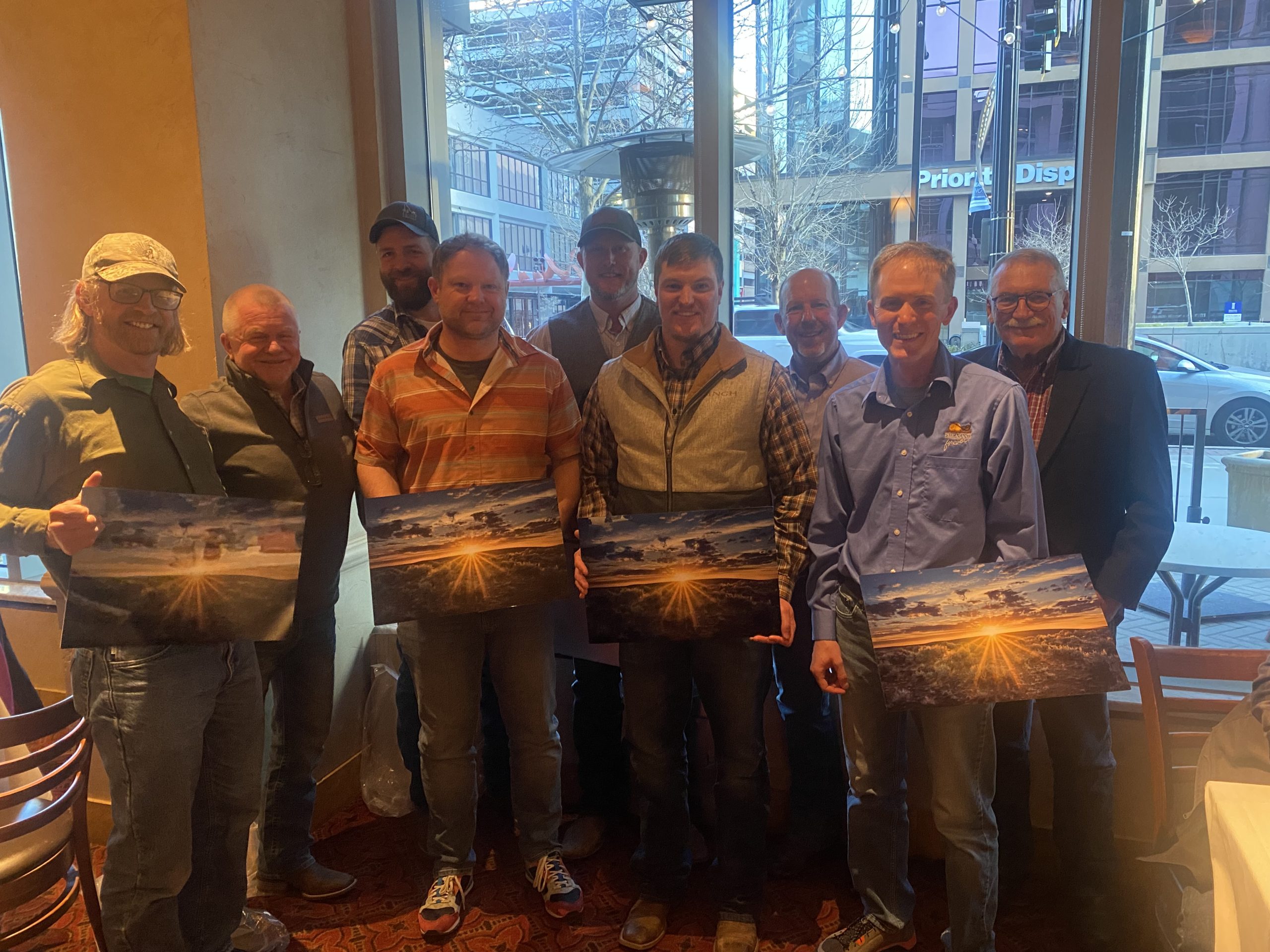 Much of their work together has been associated with the Bruneau-Owyhee Sage-grouse Habitat project, which aims to remove many of the vast stands of junipers that have encroached on what had historically been sagebrush, grasslands, and aspen stands. The BOSH project is a Bureau of Land Management (BLM) endeavor that expands across ownership boundaries, thanks to the collaborative efforts of this group and the scores of participating landowners. They have capitalized on this opportunity to be more holistic in their approach. In many cases, they have used these juniper cuttings with low-tech, process-based restoration techniques to improve the capacity of these areas to hold water longer into the summer and broaden the wetted area along the riparian corridor; a process intended to mimic the work that beaver had previously provided when they were more abundant. They are also beginning to work on aspen regeneration projects in which they have identified areas where conifers have encroached on these stands. 
"The acreage impacted by this team has been inspirational," said Sal Palazzolo, with the Idaho Department of Fish and Game as well as IWJV Idaho State Conservation Partnership Chair. "Their motivation, determination, and ingenuity have and continue to provide landscape-scale benefits throughout the Owyhees."
The IWJV Awards Committee is delighted to award a second Conservation Partner Award to Mark Hogan, the recently retired Wyoming State Coordinator for the U.S. Fish and Wildlife Service's (USFWS) Partners for Fish and Wildlife (PFW). Mark's contribution to the conservation of landscapes in Wyoming is extensive, both in terms of the length of time he has dedicated to the state and the breadth of conservation work that has benefited wildlife habitat and working landscapes. As State Coordinator of the USFWS PFW Program in Wyoming since 1998, he brings deep knowledge of all aspects of the sagebrush sea, the science needed to manage it mindfully, and the technical skill needed to execute effective conservation projects. His ability to build lasting partnerships with a wide range of groups and individuals has accomplished the task of working at scale and across jurisdictional boundaries. 
"Mark's way with people builds trust and long-term working relationships that embody the word partnership," said Jennifer Lamb with The Nature Conservancy in Wyoming. "When Mark is on your project team, you know that the conversation will be thoughtful, considerate, transparent, and solution oriented—and effective conservation will result."
Mark has been described by partners as a "steady oracle" when it comes to thinking through how to accomplish conservation at a meaningful scale. His career contributions and broad vision have been impactful to Wyoming's wetlands and rangelands, and to the development of other conservation programs and partnerships. 
"Mark understands how Wyoming's landscapes function and what they need to continue to function and, in some cases, to heal," said Kelsey Beck with the Popo Agie Conservation District. "He can do the most important thing to accomplish landscape-scale habitat conservation: he can pull people to the table who can imagine, create, fund, and implement big vision."
Huge thank yous go out to these well-deserving people as well as the colleagues that nominated them for these awards. The IWJV Awards Committee is currently accepting nominations for our 2023 awards cycle. Please review the variety of awards we present and consider submitting an individual or team for this special recognition.