Colorado Collaborative to Benefit Birds and Agriculture
by Megan Delamont
Colorado is putting its best foot forward with boots on the ground for conservation. The Bird Conservancy of the Rockies is partnering with the Natural Resources Conservation Service (NRCS), Colorado Parks and Wildlife, National Fish & Wildlife Foundation, USFWS-Partners for Fish & Wildlife, Ducks Unlimited, and the Intermountain West Joint Venture (IWJV) in the name of conservation to place Private Lands Wildlife Biologists in Colorado. Of the 12 positions strategically located throughout the Bird Conservancy's region, seven actively support landscape-level conservation on working lands in Colorado, a priority for each of the partners. This collaborative approach leverages program funding from the partners, grants, and the USDA Farm Bill Conservation Title to build capacity and deliver voluntary, incentive-based conservation that is a win-win for the landowners, landscape, and birds and other wildlife.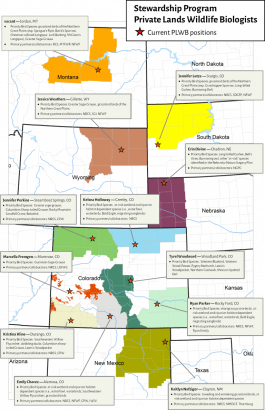 The Bird Conservancy of the Rockies, a nonprofit organization aimed at conserving birds and their habitat in local communities across the Rockies and Great Plains, is the host organization for these private lands partner positions. The Bird Conservancy recently increased its conservation footprint by hiring Emily Chavez for one of these positions. Chavez previously worked with the U.S. Forest Service monitoring endangered salmon in the Columbia watershed basin in the Pacific northwest. She graduated from Colorado State University with a degree in Natural Resource Management and Watershed Science, while polishing her professional skills in a grassland ecology lab, watershed lab and snow hydrology lab. Chavez is taking on the responsibilities of a Private Lands Wildlife Biologist with pride in her hometown, Alamosa, CO, an area known as the San Luis Valley.
The San Luis Valley is the headwaters of the Rio Grande and a vital stopover for migrating birds. The IWJV and other conservation organizations are focusing resources in this landscape to ensure the conservation of migratory bird habitat, most of which is on private lands. Supporting private landowners with conservation programs that have tangible impacts is incredibly important to sustain bird populations and agricultural production that drives local economies in this region. Partner biologist positions like Chavez's are a key link to recognizing local conservation needs, translating science, and identifying technical and financial resources for successful on-the-ground conservation.
"Being a Private Lands Wildlife Biologist means that I have the opportunity to tap into the expertise and resources that each of the partners brings to the table," Chavez stated. The partnering aspect of her position allows her to turn to seasoned mentors or her fellow biologists to seek advice on navigating the challenges of a unique position like this.
In addition to the pool of knowledge Chavez has access to, she is uniquely positioned to collaborate with the partner organizations to combine funding that allows her and her team to focus on larger projects that would not otherwise be attainable. Although the Bird Conservancy is her host employer, Chavez relies on significant funding and mentoring from the NRCS to understand and navigate the complexities of the Farm Bill which is the largest funding source for wildlife habitat conservation on private lands. As partnerships continue to develop, like with IWJV's Water 4 Initiative, Chavez continues to learn the importance of collaboration of local and non-local partners. Chavez is looking forward to applying her knowledge and skills to the San Luis Valley where she will focus on partnering with private landowners through various conservation programs to restore and improve Southwestern Willow Flycatcher habitat and wetland habitats.
The Southwestern Willow Flycatcher is a small passerine, weighing about half an ounce. These tiny perching birds breed in relatively dense riparian tree and shrub communities associated with rivers, swamps, and other wetlands, including lakes and reservoirs in the otherwise arid southwestern U.S. This makes the San Luis Valley of southwestern Colorado perfect for flycatchers' spring breeding and migration. However, their population has declined to the point of being declared federally endangered due to habitat loss and fragmentation. Surface water diversion, groundwater pumping, and the spread of invasive plants have altered riparian vegetation necessary for the Southwestern Willow Flycatchers' survival.
Chavez recognizes the important role that private landowners play in restoring and improving riparian systems for flycatchers and is excited to assist with planning and implementing voluntary conservation practices that also benefit agricultural operations. This is the win-win that Chavez aims to support in her new role as Private Lands Wildlife Biologist.