Conservation Outcomes that Matter
By Dan Keppen, Executive Director, Family Farm Alliance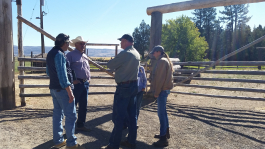 In September 2018, Family Farm Alliance representatives participated in a tour of Lassen County in northeastern California that highlighted how ranchers play a critical role providing and conserving wetland habitat in the West. Alliance President Pat O'Toole, and his wife Sharon, of Wyoming joined me for a tour of two private ranches and two California Department of Fish and Wildlife (CA DFW) projects where local landowners and managers described their planning and implementation of habitat projects. The tour was hosted by the Intermountain West Joint Venture (IWJV) of which Mr. O'Toole is a member of the Management Board. The IWJV's mission is to conserve priority bird habitats through partnership-driven, science-based projects and programs.

At Five Dot Ranch, a seventh-generation ranch and one of the largest in Lassen County, Todd Swickard described his natural beef operation and how he worked with the Natural Resources Conservation Service (NRCS) to develop a conservation easement, as well as complete a meadow restoration project with NRCS and the U.S. Fish and Wildlife Service's Partners for Fish and Wildlife Program. Water is in short supply and Mr. Swickard explained how he uses flood irrigation to keep water on the land as long as possible, benefitting soils, hay production, waterfowl and a diversity of other wildlife. Ranchers in this region face many challenges and Mr. Swickard emphasized the value of working together to come up with viable solutions.

Across the highway from the Five Dot sits Willow Creek Ranch, where Jack Hanson described his family's efforts to manage and operate their ranch for livestock production while maintaining wildlife habitat and ecosystem function. The Hansons also use flood irrigation to improve soils, agricultural production, and the environment, and they appreciate the value that the IWJV has placed on these wet meadows through its science and planning efforts. Mr. Hanson described his family's desire to protect portions of their ranch in perpetuity through a conservation easement. With the significant pressures on ranching in California, Mr. Hanson expressed his appreciation for the collaborative approach of partners in this region.

The Willow Creek Wildlife Area located just north of the ranches complements the habitat provided by their operations. Acquired by CA DFW in 1989, this wildlife area was previously a working cattle ranch. Since the state implemented wet meadow restoration projects and water management improvements, the wildlife area now contains approximately 2,700 acres of meadows, wetlands, and shallow marshes that provide important habitat for wildlife (including species of special concern) and recreational opportunities for people.

Approximately one hour's drive north, the last tour stop is one of the most remote and pristine of California's wildlife areas. The 14,400-acre Ash Creek Wildlife Area is used as a crucial resting and refueling stopover by migratory birds on their northward spring migration. Since acquiring this area in 1986, the state has implemented stream channel redesign and wetland and associated uplands habitat improvement projects on-site in partnership with California Waterfowl Association, Ducks Unlimited, and the Pit Resources Conservation District, with funding support from North American Wetlands Conservation Act, CA DFW Duck Stamp and Minor Capital Improvement programs, and Wildlife Conservation Board grants. As a result, floodplain function has been restored, duck productivity has dramatically increased, and water table levels have risen significantly across the floodplain.

The theme of conservation partnerships echoed throughout the tour.

"The critical inter-relationship between farming, ranching, and western waterfowl must be recognized and protected," Mr. O'Toole. "The partnership philosophy of the IWJV is an excellent template for a new paradigm of conservation that benefits the environment and agriculture."

Dave Smith, IWJV Coordinator, said, "Private landowners are key players in conserving wildlife habitat. Today's tour is only part of a region extending across Southern Oregon-Northeastern California, an area referred to as the SONEC region. This area provides some of the continent's most important habitat for waterfowl, shorebirds, and other water birds."
Moooooo! Conservation projects implemented by ranchers in the SONEC region enhance agricultural productivity and provide important migratory bird habitat.


The SONEC region is one of the most productive spring staging areas for waterfowl in North America. Wetlands in SONEC serve as a crucial migration hub between wintering areas in California and breeding grounds in Alaska and Prairie Canada. More than six million wetland-dependent migratory birds rely on these working wet meadows for successful migration and reproduction each year.

"Working flood-irrigated ranchlands provide vital wetland habitat for waterfowl and a host of other wildlife," said Smith. "Part of the IWJV's focus is to help ranchers in appropriate locations, like the SONEC region, to continue traditional flood irrigation management practices that have been used for generations to produce forage, provide wildlife habitat, and sustain floodplain function."

In this part of the West, flood irrigation applied by farmers and ranchers is extremely valuable to wildlife and also to people — it helps to sustain agricultural productivity, water use efficiency, and local economies. By valuing these services, local communities and waterfowl advocates can create strong partnerships with landowners for wetland habitat in this part of the world. The partnership philosophy of the IWJV is a great catalyst for building lasting relationships for conservation that benefits the environment and agriculture.

For more information about Family Farm Alliance, visit www.familyfarmalliance.org. For more information about Intermountain West Joint Venture, visit www.iwjv.org.

Parts of the article above originally appeared in Family Farm Alliance's September 2018 "Monthly Briefing". It has been adapted with permission from the author.