Exceeding Expectations: How the Farm Bill Looks to Montana
This article by Catherine Wightman, Wildlife Habitat and Farm Bill Coordinator for Montana Fish, Wildlife & Parks, originally appeared in the Montana Outdoors magazine.
While not offering much for Montana's dispirited CRP fans, the 2018 Farm Bill's other land and water conservation programs will provide tens of millions of dollars to help farmers, ranchers, wildlife, and public recreational access in the state's prairie region.
Commonly known as the Farm Bill, the Agriculture Improvement Act is one of the most powerful pieces of legislation affecting Montana's farmers, ranchers, and rural communities.
Wildlife, too.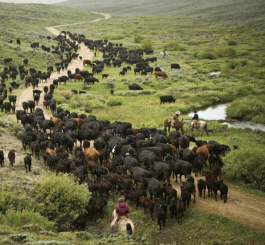 In fact, no other legislation has more potential to help or hurt wildlife populations in the state's central and eastern regions than the Farm Bill, which Congress reauthorizes every five years or so.
The nation's first Farm Bill, passed in 1933 as part of the New Deal, was Congress's response to the economic and environmental crises of the Great Depression and the Dust Bowl. Then as now, the goals of the Farm Bill are to maintain fair food prices and adequate food supplies while conserving natural resources. Over the years, a growing number of Farm Bill programs have improved water quality, protected wetlands, and enhanced wildlife habitat.
Each Farm Bill must balance economic, political, and other priorities. As a result, some Farm Bill components end up harming wildlife habitat and populations, while other programs, including several in the 2018 bill, are beneficial. "Overall, this is a great Farm Bill," Bob Sanders, Montana Conservation Program manager for Duck's Unlimited (DU), says of the $876 billion bill, authorized by Congress in December 2018.
Earlier drafts of the bill threatened to slash conservation by $1 billion, Sanders says. But DU and other conservation groups fought back in the final negotiations and pressured Congress to restore and even boost conservation programs.
Here's how several of the 2018 Farm Bill's dizzying alphabet soup of programs, authorized by Congress last December, shake out for Montana's wildlife populations and habitat… Read the full article here!