Five New Members on the Sage Capacity Team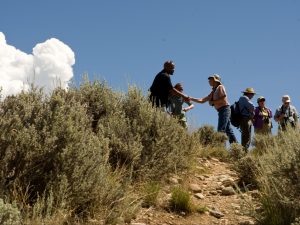 Partnering to Conserve Sagebrush Rangelands is investing in people in priority landscapes to develop lasting conservation partnerships in the form of community-based conservation capacity. We call the folks filling these important roles the Sage Capacity Team. These individuals are helping to coordinate across public and private boundaries, break through bottlenecks and challenges, track projects and success, and facilitate forums that bring partners together in sagebrush country.
Through collaboration with the Bureau of Land Management and many other partners, this team now consists of 15 partner positions! Their work entails addressing conifer encroachment, restoring wet meadow habitats, reducing the risk of catastrophic wildfire and cycle of annual invasive grasses, facilitating outcome-based grazing, and conserving big game migratory corridors, among other sagebrush-habitat focused areas of work. You can learn all about these people over at Partnering to Conserve Sagebrush Rangelands.