New Tech is a Nexus for Native Fish, Agriculture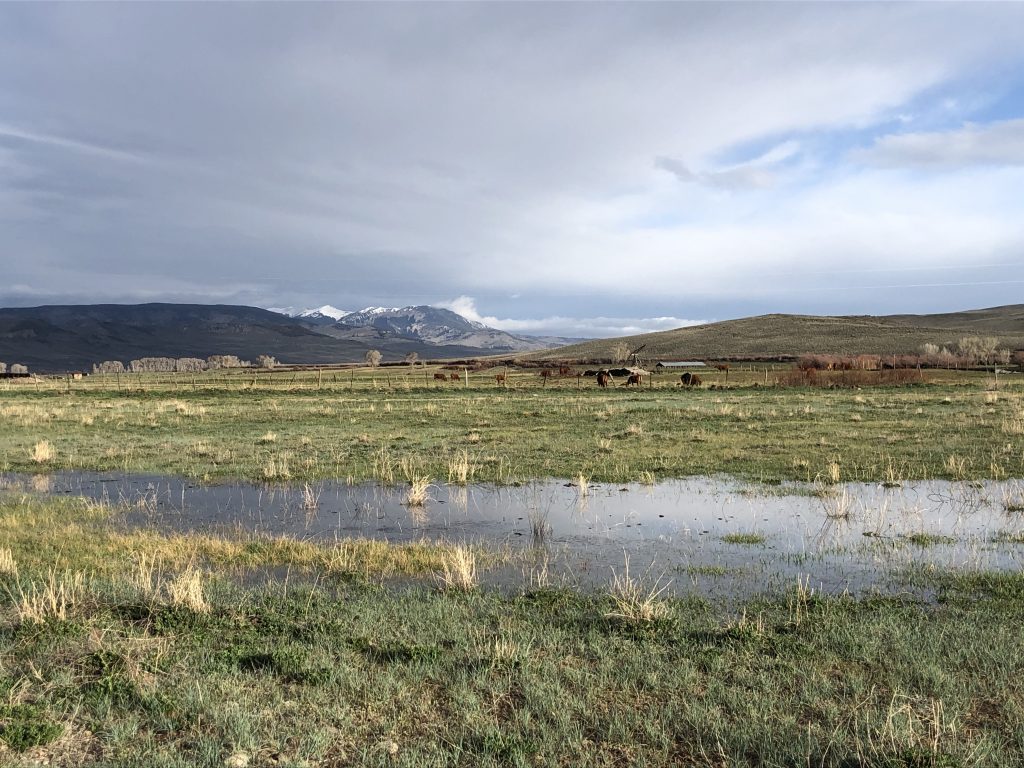 Spring flood irrigation on a ranch in the Gunnison Valley.
In a high-elevation hay meadow somewhere in the mountains of Colorado, cold, clear water is diverted out of a river and into an irrigation ditch. It flows through the hand-dug ditch mostly unimpeded—that is, until an electrical pulse tells a powerful magnet to release a hinged sheet of metal, which flops unceremoniously down into the channel and blocks the water. The water backs up until it spills over the banks of the ditch and begins to spread throughout the meadow, providing the water the grass and forbs in the meadow need to grow.
The mechanics of flood irrigation are old, dating back to early agricultural systems in Mesopotamia. However, one thing in the above description is quite new: the magnetically released gate. For centuries, irrigators have used stones, wooden boards, tarps, and manually operated flood gates to control water's flow through their ditches. Although simple in design, the automatically releasing flood gate—called an "auto-tarp"—could revolutionize flood irrigation. That's why it is the subject of a new Natural Resources Conservation Service (NRCS) Conservation Innovation Grant (CIG) awarded to Trout Unlimited and partners in Colorado's Upper Gunnison River and Rio Grande watersheds.
Called "Regional LoRa Networks to Improve High Elevation Flood Irrigation Water Management," the CIG will help Trout Unlimited work with eight ranchers to deploy auto tarps and Long-Range Low Power Area Networks (LoRa) monitoring stations. The hope is that doing so can improve wild flood and furrow irrigation water management on irrigated mountain valleys above 5,500 feet in elevation. In these high valleys—which are home to headwater streams of major rivers like the Colorado and the Rio Grande—a limited supply of water must be shared between ranchers, communities, wildlife, and maintaining in-stream flows for native fish and recreation. 
For Jesse Kruthaupt, Trout Unlimited's Upper Gunnison Basin Project Specialist, designing the auto-tarps was a way to bring infrastructure efficiency to a ranching community that relies on flood irrigation to produce hay for its livestock. Flood irrigation in these headwater basins is of utmost importance to the resilience of these systems. Beyond sustaining the livelihoods of agricultural producers, flood-irrigated agricultural lands serve as important stopover sites for migratory birds, habitat for big game animals, and a source of groundwater recharge long after the season's snowpack melts away. Added efficiency by way of infrastructure updates to these systems can help maintain flood irrigation and its benefits while potentially contributing to more water in streams and rivers for fish, especially later in the season as mountain watersheds dry out.
"Ranchers need infrastructure improvements, and those can improve management, which can benefit the fishery," he said. "The question is always, 'How can we figure out irrigation efficiency that would be socially acceptable and make economic sense?'"
Irrigated hay meadows in Colorado's Gunnison Valley are primarily down in the floodplains of rivers and creeks. In the spring when flows are high, ditches guide water from the stream onto the surrounding meadow habitat where the water spreads out before slowly percolating down into the soil. Flood irrigation like this is important because it helps maintain the region's water table, or below-ground water supply, and keeps water in the system for when it's needed later in the summer. Kruthaupt said that, because the Upper Gunnison is a high-elevation watershed with a short growing season, it's hard to justify irrigation infrastructure improvements like sprinklers or pivots that would only be used for a couple of months each year. Instead, producers and conservationists are strategizing ways to improve the efficiency of the systems already in place, which will also help maintain some of the benefits of flood irrigation.
That's where the auto-tarps come in.
"Really what they do is automate the irrigation scheduling, and that's where the efficiency comes in," Kruthaupt said. "One aspect is labor efficiency—they don't have to come out in the field and make adjustments. Two is the water efficiency—maybe [the rancher] saves eight hours of a set. That's eight hours that the water could be somewhere else."
In the San Luis Valley, where a historic, communally-run acequia system directs water onto fields, the labor efficiency aspect of the project is key. Kevin Terry, the Rio Grande Basin Project Manager for Trout Unlimited, said that the CIG could provide farmers and ranchers with an important tool to make their operations easier to manage.
"Most people here do not farm for their primary income source," Terry said. "They have to take a day off to deal with irrigation. This will save a lot of time in the truck—and a lot of over-application that happens when people can't get out to the field. 
In 2022, two producers in the Gunnison Valley and one in the San Luis Valley will have auto-tarps and LoRa stations installed on their land. In 2023, the project will expand to include one additional rancher in each the Gunnison Valley and San Luis Valley, as well as a producer along the Lower Gunnison River. By the end of the third and final year of the CIG, a total of eight producers will be involved in the project.
"This first year, we just want to get people out to see it to see if it works for them," Terry said. "But we're also excited to look at the data to see trends—what worked, what didn't work, what changed. It doesn't mean people have to change their operations, it just gives them more information to consider in those decisions."
That's why remote sensing technology is key to this project. Monitoring stations in the field connected to the LoRa network send data on soil moisture and water flows to a dashboard that ranchers and land managers can access at home.
"Ideally, you can pull it up on your phone at home and see what the water level is, what the soil moisture is, and trigger the auto-tarp remotely, either by scheduling it out or triggering it yourself," Kruthaupt said.
The remote sensing will also help monitor the outcomes of the project to see if the auto-tarps are providing the environmental returns they're looking for. Furthermore, Terry said, making this information available to producers and their partners can open the door for multiple groups to coordinate on conservation.
"This is very much a forward-looking project," he said. "It's setting us up for a great future of trust, and expanding conservation education in these communities."
Dan Olson, the NRCS Resource Conservationist at the Gunnison Field Office, said one ultimate goal of the CIG is to determine the benefit and feasibility of new technology and methods that support conservation and to consider assisting producers in adopting new practices through financial incentives programs such as the Environmental Quality Incentives Program (EQIP).  EQIP could help many producers install the auto-tarps and LoRa monitoring stations in areas that could benefit from updating flood irrigation infrastructure in the future.
"This technology could really be mainstream in the future," Olson said. "It's basic, it's not extremely high-cost, and it could greatly benefit the livelihoods of the operators and reduce the time and labor that goes into irrigation water management."
The other goal for the CIG, Kruthaupt said, is simply improving irrigation efficiency that can lead to more in-stream water for fish, all while maintaining the environmental benefits of flood irrigation. 
"We don't want to be drying up agricultural ground up here," Kruthaupt said. "If there are strategies that work for the environment and for some of the irrigators, we can blend those in to help keep people in operation and keep this system whole."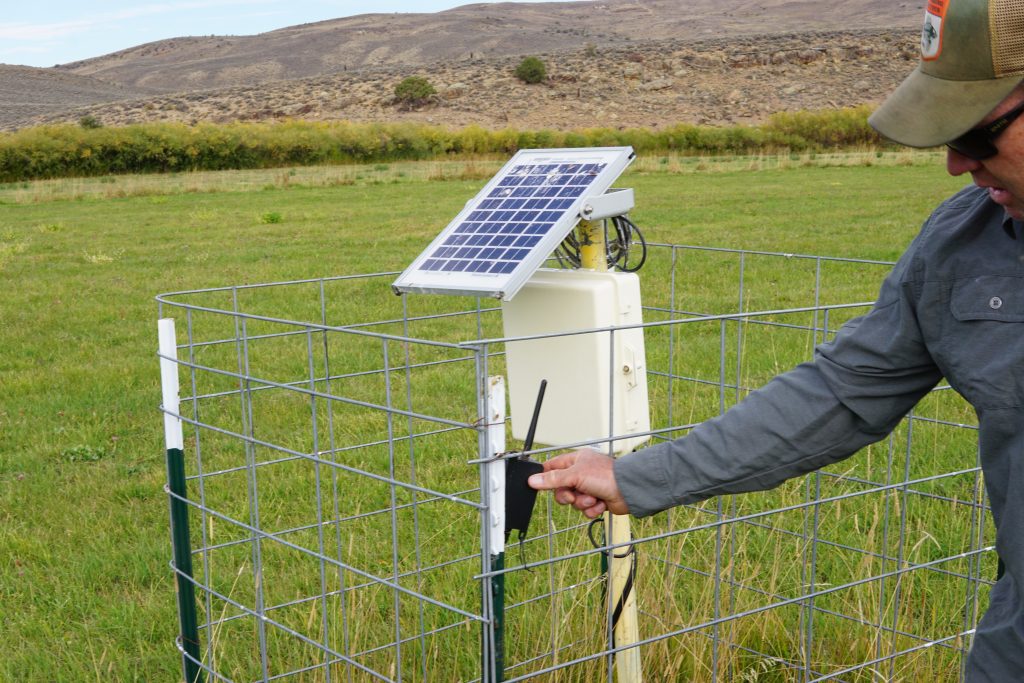 Jesse Kruthaupt points out the features of a LoRa station on a Gunnison Valley ranch.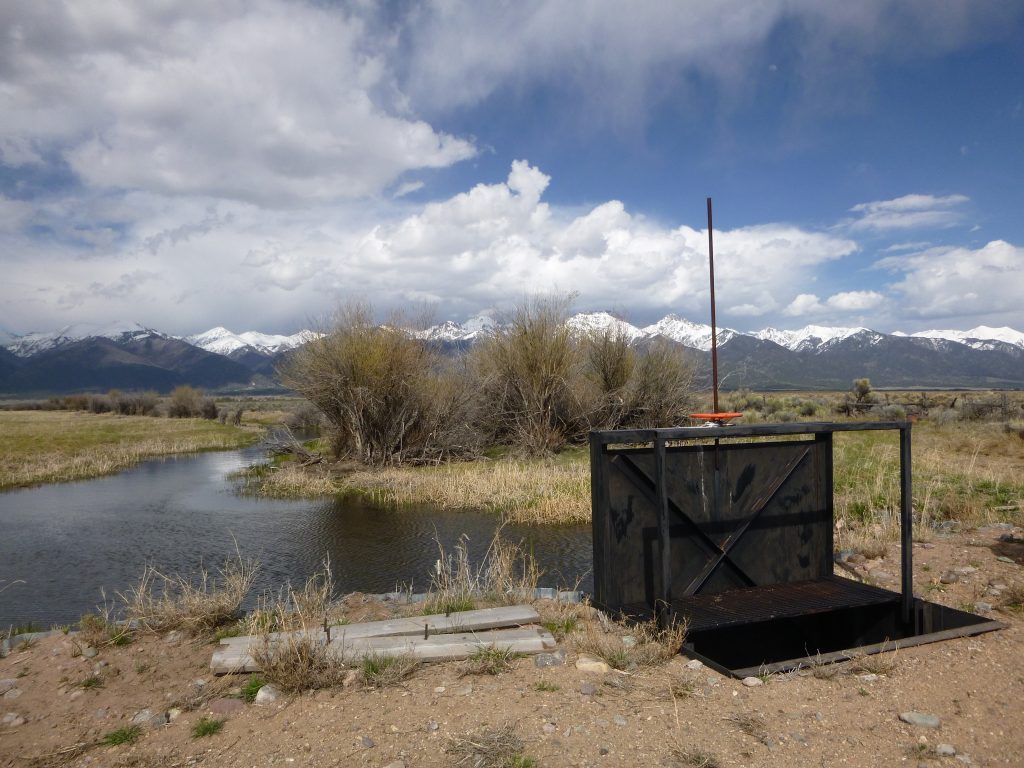 Traditional flood irrigation infrastructure in the San Luis Valley.
For now, the auto-tarps are deployed by a timer that is set on a solar-charged battery that powers the magnet.