In person in Idaho with IWJV's Management Board & Partners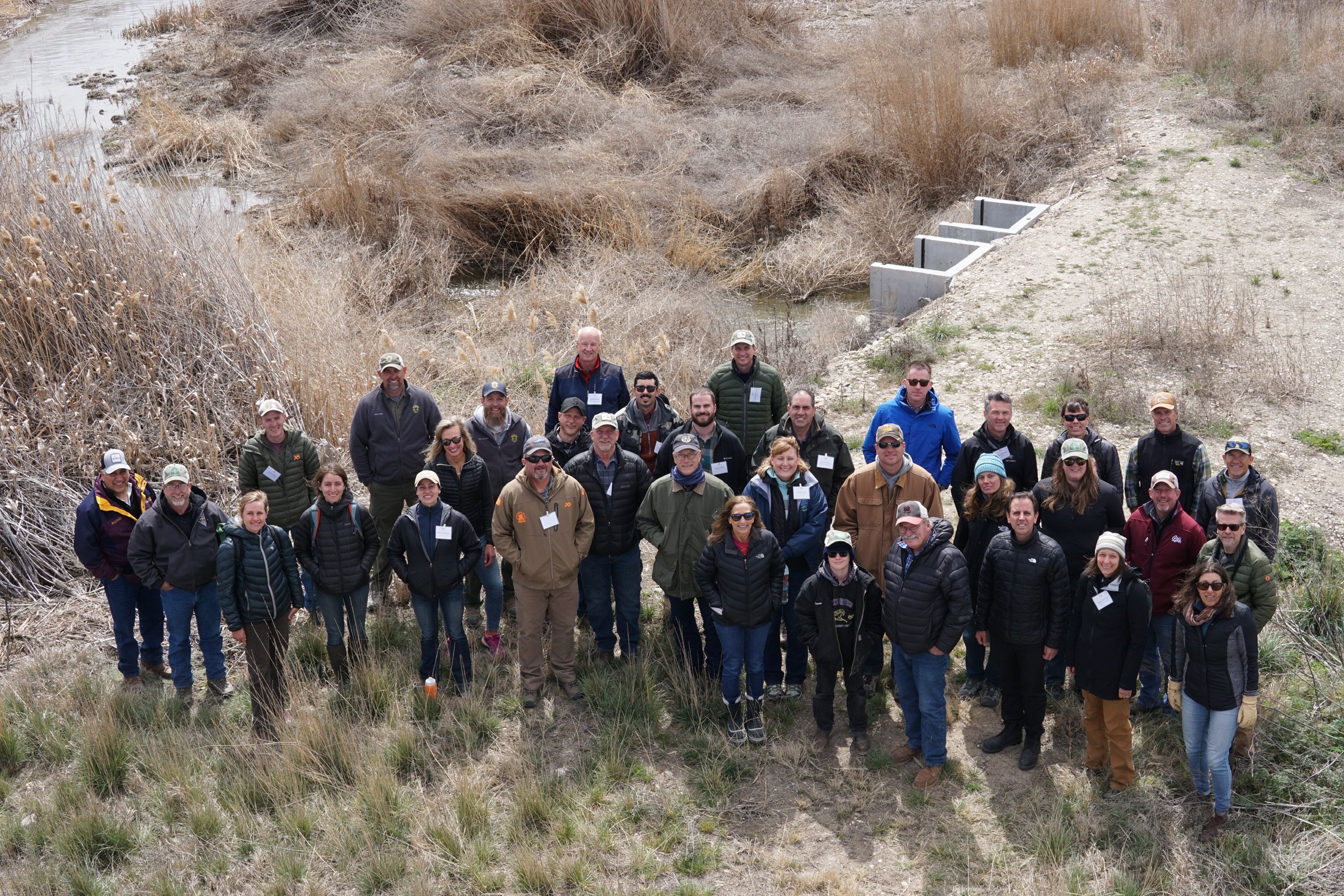 Staff from the Intermountain West Joint Venture (IWJV) and the majority of our Management Board were delighted to be back in the saddle as we met face-to-face in Idaho last week for our spring meeting. This was the first in-person gathering of board and staff since September 2019 and excellent discussions filled every element of the multi-day event. 
The week began with an adventure through a spring squall at Three Creek Ranch, a livestock operation managed by Kim and Ira Brackett. Kim, an IWJV board member, and her family showed people around the sagebrush expanses, flood-irrigated meadows, and deep basalt canyons of their ranch. The group spotted mule deer, sandhill cranes, long-billed curlew, and even a sage grouse! The weather was brisk but no one complained about the much-needed precipitation pelting us along the way.
The next day had the group out to the Fort Boise Wildlife Management Area, where many migrating birds were stopping over to rest and refuel on their northward travels. Idaho Fish and Game, Ducks Unlimited, and the U.S. Fish and Wildlife Service–Idaho Office presented on numerous collaborative efforts happening across the region and rest of the state. Attendees got to explore the area's wetlands, enjoy conversations not over Zoom, and watch cinnamon teal, snow and Canada geese, coots, mallards, and other birds scoot across the various ponds.
This meeting also provided an opportunity to pause and celebrate conservation success stories and the people who make them happen. On Wednesday night, the IWJV presented Miles Moretti with the illustrious John E. Nagel Award (for 2021) and also recognized Kevin Conroy and Jay Gibbs with the 2021 Conservation Partner Award.
"Miles, Jay and Kevin represent some of the finest friends and most dedicated conservation professionals you can find," said Dave Smith, IWJV Coordinator. "We are so pleased to present these awards to these incredible people. The IWJV's work is dedicated to wetland/working wet meadow and sagebrush habitat conservation due in large part to their valuable guidance and support. We can't say thanks enough!"
The IWJV also orchestrated a surprise recognition with the local Bureau of Land Management staff to present one of our shared positions, Connor White, with a thank-you photograph for his contributions to the Bruneau-Owyhee Sage-grouse Habitat Project. Learn more about this colossal effort here.
Last, but not least, we all got down to work with our board meeting business and had conservation conversations at a level we've all been greatly missing. We'd like to extend especially big thanks to Idaho Game and Fish Director Ed Schriever for hosting us in the agency's new Boise facility. The excellent technology available made it possible for remote attendees to tune in and actively participate in our meetings and discussions. We'd also like to sincerely thank all of our partners who participated throughout the week. 
We look forward to seeing more people around the West in the coming months!
While in Idaho this week, the IWJV board, staff, and partners visited regions across the ancestral home of the Shoshone, Paiute, and Bannock peoples. We offer gratitude to the original caretakers of this land, as well as their continued leadership in conservation efforts in this region.