Intermountain West Projects Receive $2.86 Million in Funding
The Lahontan Valley – Western Nevada Wetlands II
This project will improve water conveyance and distribution, and provide proper water and vegetation management capabilities to wetland managers, fostering improved management of 3,975 acres of marsh to benefit spring migrating waterfowl, waterbirds, and shorebirds in the region. These same wetlands also support large populations of breeding waterfowl, waterbirds, and shorebird, and provide molting habitat. All project work will occur on federal, state, or privately owned lands managed specifically for wetlands and the wetland-dependent migratory birds they support.
In some great news for the IWJV's State Conservation Partnerships in Nevada, Wyoming, and Colorado, today the Migratory Bird Conservation Commission approved three North American Wetlands Conservation Act (NAWCA) standard grants submitted by Ducks Unlimited for wetland habitat conservation in the Intermountain West. The Lahontan Valley – Western Nevada Wetlands II, Western Wyoming Wetland Partnership, and North Park Wetlands Conservation Partnership II projects were collectively awarded over $2.86 million in NAWCA funds to conserve wetlands in these key landscapes, leveraging $5.95 million in non-federal matching funds.
NAWMP high priority species including Northern pintail, mallard, lesser scaup, and greater scaup; the priority Pacific greater white-fronted goose, Wrangel Island snow goose, redhead, canvasback, ring-necked duck, and American wigeon; and a host of other waterfowl species.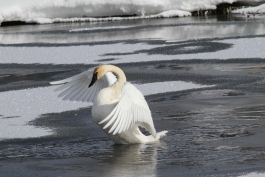 Western Wyoming Wetland Partnership
This project will permanently protect 785 acres, while restoring 2,370 acres and enhancing 563 acres is Western Wyoming. Activities include the acquisition of four conservation easements; construction, installation of levees, pipelines and other water control structures, river channel and riparian restoration, and installation of fencing to achieve vegetation conditions favored by waterfowl, shorebirds, and wading birds. The projects expand and complement habitats protected through other conservation efforts within the project area. Although more than 100,000 acres have been protected via permanent conservation easements within the project area, only the Western Wyoming Wetlands Partnership is dedicated to improving wetlands by restoring and enhancing ecological function.
Wildlife benefitting include mallard, Northern pintail, lesser scaup, wood duck, redhead, canvasback, ring-necked duck, American wigeon, Canada geese, and arguably the most iconic to the people of western Wyoming, the trumpeter swan.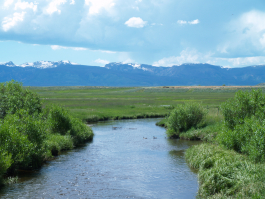 North Park Wetlands Conservation Partnership II
The project will conserve 6,510 acres of high-quality wildlife habitat in North Park, Colorado. The acres conserved under this Partnership are deemed essential to the characteristic integrity of the wetland complex found in the valley. Over 5,000 acres of these wetlands and associated uplands will be permanently protected. Conservation easements on three large ranches will buffer existing public lands, preserve connectivity of wetland systems and retain the pattern of irrigation that derives so much of the value for wildlife in North Park. Enhancement of an additional 1,421 acres of wet meadow habitats will increase the quality of habitats on private and public lands to the benefit of species foraging and nesting in those areas.
Species benefitting include mallards, pintails, lesser scaup, greater sage grouse, greater sandhill cranes and long-billed curlew.
Read the U.S. Fish and Wildlife Service's press release here to learn about other grant recipients.