Meet the Team Bringing Solution-Based Science to Ground-Level Action
The IWJV constantly strives to connect the best and latest science to our partners in the field. That's why we're excited to announce the formation of our new Science to Implementation team to help do just that.
What is Science to Implementation?
Science and land management are two complex worlds that often become disconnected. Bridging the gap between knowledge and action helps ensure land managers have the most relevant information to inform their decisions.
With a powerful suite of partner and in-house science, as well as a skilled team, the IWJV is uniquely poised to help connect our partners to science and to each other to achieve these shared goals and put best management practices onto the ground. But who acts as this critical link?
This is where IWJV's Science to Implementation team comes in.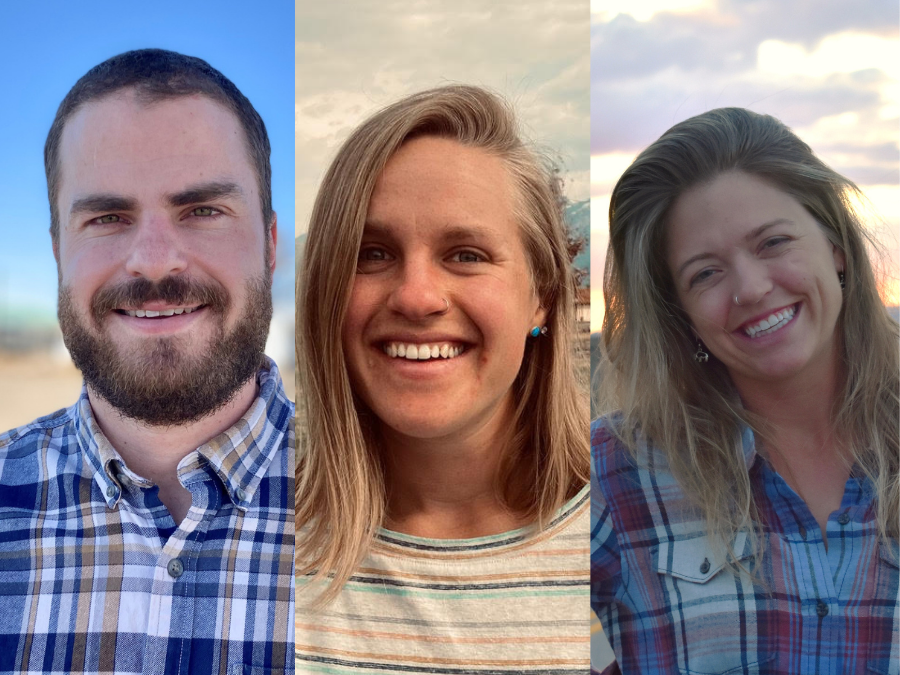 Andrew Olsen, Mariah McIntosh, and Erica Hansen (right) form the IWJV's recently developed Science to Implementation team.
Comprised of three full-time staff members, this small but mighty team will be working across the IWJV's Partnering to Conserve Sagebrush Rangelands and Water 4 programs to synthesize, interpret, and deliver important science resources to our partners in conservation. This shift in our approach to science reflects the innovation and responsiveness that IWJV brings to help access, interpret, and apply cutting-edge conservation science.
"The IWJV has increasingly recognized the gaps that exist between the development of science and the transfer of science into conservation outcomes," said Dave Smith, IWJV Coordinator. "We are capitalizing on the opportunity to increase strategic conservation through this dedicated team to work on science to implementation full time."
The IWJV sees a vital niche toward increasing conservation by taking a whole landscape view by looking at the intersections of science, habitat types, and the people of the West.
Team Members
Dr. Andrew Olsen joins the IWJV as the new Science to Implementation Coordinator. Olsen brings with him a career entrenched in sagebrush conservation and scientific research. While living in Oregon, he helped conduct research aimed at understanding the effects of conifer encroachment on native species including sage-grouse. Olsen is passionate about collaborative conservation.
"The Intermountain West Joint Venture's investment in capacity for helping our partners access, interpret, and apply science to the conservation issues of the Intermountain West is forward-thinking and a powerful testament to the organization's commitment to evidence-based conservation," Olsen said. "I am thrilled to work with Mariah, Erica, the rest of the IWJV staff, and our partners on this important work."
Dr. Mariah McIntosh has been a part of the IWJV team since 2020, working part-time while completing her PhD. She recently joined the IWJV staff full-time as a Science to Implementation Specialist and will be instrumental in connecting key science and tools to our on-the-ground partners.
"I'm thrilled to hit the ground running with this team to support our partners in putting science to action," McIntosh said. "With unprecedented funding for conservation and restoration, it's really more important than ever to strengthen on the ground efforts and showcase the outcomes of our partners' hard work."
Erica Hansen rounds out the Science to Implementation team, joining the IWJV staff in May 2022 as a Science to Implementation Specialist. Erica studied sage-grouse populations during her master's program and joins the team with experience in many facets of the IWJV's work. Her most recent position was with the Jackson Hole Land Trust, where her work emphasized the importance of relationship-building in achieving shared conservation goals.
"Building on a legacy of important work by our partners, we now have the opportunity to increase the pace and scale of conservation across the Intermountain West," Hansen said. "I'm looking forward to helping our partners access, interpret, and apply the best-available science to support our shared vision of healthy, connected landscapes for people and wildlife."
Contact the Science to Implementation Team
The Science to Implementation team will be a critical science resource for our partners in the field. Please connect to them at the emails below:
Andrew Olsen, Science to Implementation Coordinator: andrew.olsen@iwjv.org
Mariah McIntosh, Science to Implementation Specialist: mariah.mcintosh@iwjv.org
Erica Hansen, Science to Implementation Specialist: erica.hansen@iwjv.org