Miles Moretti: A Lifetime Investment in Conservation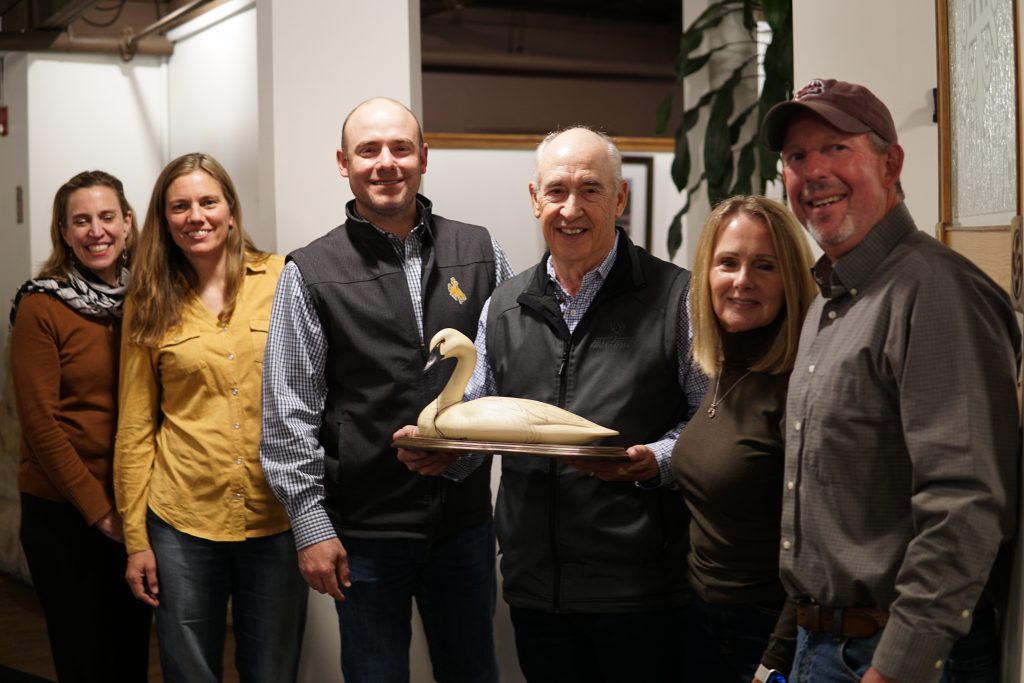 Ali Duvall, Sherri Ligouri, Ron Leathers, Miles and Julie Moretti, and Dave Smith, at the Spring 2022 IWJV Management Board Meeting in Boise, ID.
In many ways, Miles Moretti exemplifies the purpose of the Intermountain West Joint Venture (IWJV). Moretti, the recipient of the IWJV's 2021 John E. Nagel Award and a former member of the IWJV Management Board, has dedicated his life and career to managing and conserving wildlife.

Following a successful career in wildlife management culminating as a senior official for the Utah Department of Wildlife Resources, Moretti decided to apply his talents, passion, and skills to conservation in the non-profit sector as the president/CEO of the Mule Deer Foundation. Although his charge was focused on mule deer conservation, he expertly found overlaps and parallels where avian habitat development served to benefit mule deer conservation.
Moretti notably helped spearhead an effort that moved the IWJV beyond waterfowl and into all-bird conservation. In the early 2000s, he worked closely with several state fish and wildlife agency directors and other Management Board members in positioning the IWJV to play a role in long-term sagebrush conservation. In 2011, Miles led the Management Board in the development of the Sage Grouse Initiative Strategic Watershed Action Team partnership with the Natural Resources Conservation Service (NRCS). This effort brought important resources over five years to the IWJV to build science, field delivery, communications, and partnership development capacity, triggering a strategic commitment of roughly $40 million per year by NRCS to on-the-ground sagebrush habitat conservation for the last 11 years, through what is currently known as Working Lands for Wildlife.
Moretti also played a key role in brokering partnerships with ConocoPhillips and other energy companies in support of the IWJV's sagebrush conservation. He catalyzed significant private funding in contributions from ConocoPhillips over the last decade and helped forge other corporate relationships through industry trade associations that will play a key role for sagebrush conservation in the future. He capped his career with the shining achievement of working closely with the IWJV to develop its Sagebrush Conservation Committee and served as its inaugural chair. This powerful committee is currently playing a key role in shaping a collaborative and scaled-up effort to strategically address the threat of invasive annual grasses and fire in the sagebrush ecosystem.
Throughout his career and time working with the IWJV, Moretti masterfully looked for nuanced methods to build partnerships and bring people together around projects and ideas with broad multi-species benefits. This approach to conservation is a key element of the IWJV's strategy to this day. He also routinely communicated about conservation in ways with which people could relate.
"Miles Moretti, in so many ways, defines the heart, soul, and innovative spirit of the IWJV," said IWJV Coordinator Dave Smith. "His legacy as a leader of the IWJV will stand the test of time and influence proactive, partnership-driven collaboration for generations down the line."
Happy retirement, Miles! We wish you and Julie the best.