New IWJV Team Member To Lead New "Water 4" Initiative
The IWJV is pleased to announce that Joy Morris has joined the team as the new Water 4 Initiative Coordinator. The goal of the Water 4 Initiative is to conserve working wet meadows and "water for" agriculture, wildlife and fisheries habitat, groundwater recharge, recreation, and other services that matter to people.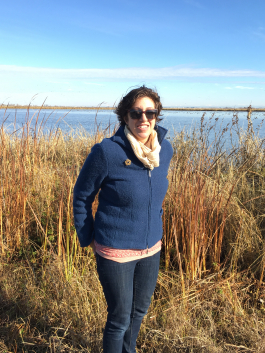 Joy has founded her career working on water and conservation challenges in Western landscapes. She brings over a decade of experience as a water program director for the National Fish and Wildlife Foundation (NFWF), restoration coordinator for the U.S. Fish and Wildlife Service working closely with the Partners for Fish and Wildlife Program, and, most recently, water conservation director for the Walker Basin Conservancy. She has extensive experience developing on-the-ground partnerships for water conservation and helping farmers and ranchers achieve their conservation goals. Most importantly, Joy is passionate about strategic conservation through partnerships, developing common ground and trust, and finding creative solutions to benefit fish and wildlife while supporting and enhancing agricultural opportunities.
Joy is an excellent fit for coordinating the IWJV's new Water 4 Initiative that will support agricultural producers, public land managers, and other partners with conservation on working lands in ways that matter to people, including improved forage production, higher quality wildlife-associated recreation, and enhanced groundwater recharge.
"The Water 4 Initiative is an incredible opportunity," she said. "I can't wait to help this initiative evolve and grow, building off the amazing ideas, analysis, and relationships that have already gone into its development."
"The IWJV is truly blessed to have such a passionate, skilled, and humble individual joining our team," said Dave Smith, IWJV Coordinator. "We are so grateful to our Management Board members and partners who contributed time, energy, and resources to the development of this exciting new initiative and helped to bring Joy on board. We look forward to officially launching the Water 4 Initiative with her in the coming months."
Joy has a B.S. in Geology from New Mexico Tech and a M.S. in Hydrogeology from the University of Nevada, Reno. Her education, experience, and desire to keep learning have helped her be successful in these multifaceted conservation endeavors. Outside of work, Joy and her family can be found roaming around the West hiking, biking, skiing and enjoying all the unique landscapes and beautiful places that they can find. Joy will be based in Missoula, Montana. Please welcome Joy to the IWJV at joy.morris@iwjv.org.