We collaborate with partners to develop innovative and actionable science for avian habitat conservation across the Intermountain West. Science partnerships with federal natural resource agencies, state fish and wildlife agencies, NGOs, and universities, including the University of Montana Avian Science Center, provide the multi-disciplinary framework and ability to address the important science needs and regional conservation strategies of the IWJV partnerships.
Over 80 percent of wildlife species in the Intermountain West rely on wetlands or irrigated habitats at some portion of their annual cycle.
Wetlands, Sagebrush, and Avian Science
Our science is focused primarily on the "wet" habitats within Intermountain West landscapes. Despite their relatively small footprint (less than two percent of surface area), wetland, riparian, and mesic habitats, including flood-irrigated hay meadows, are among the most important natural resources in the Intermountain West due to their ecological and socio-economic values. Through its science efforts, the IWJV seeks to enhance its understanding of inter- and intra-annual patterns as well as long-term trends of these resources in order to improve our partnership's ability to target and align conservation investments with the seasonal needs of priority birds.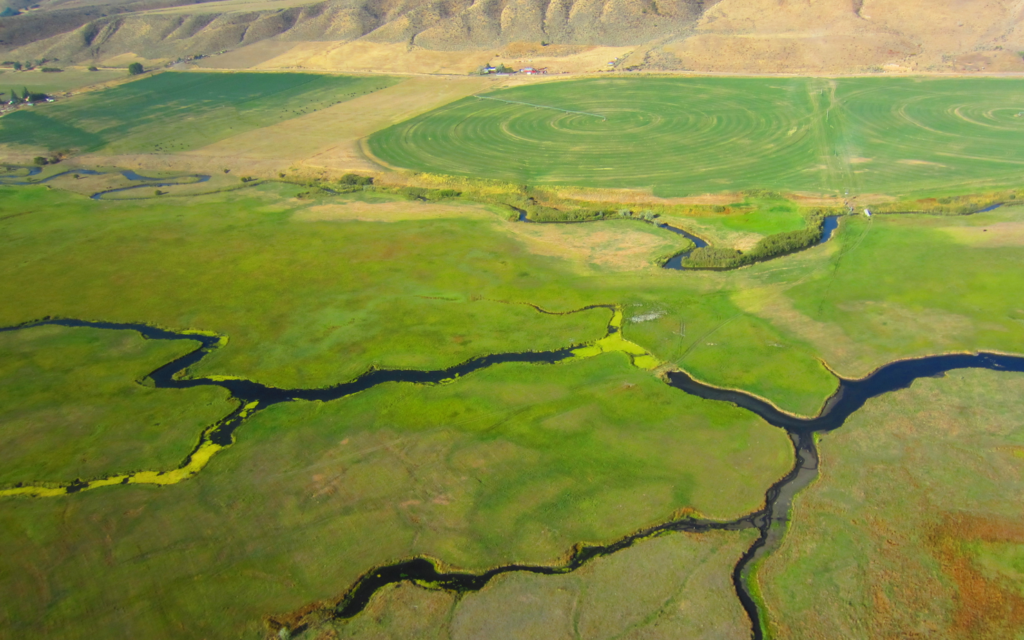 We work with partners to assess patterns of wetland and water resources, landscape change, and migratory connectivity over time and space, and target and evaluate conservation actions across private and public lands. Science partnerships with the IWJV have quantified spatio-temporal patterns of mesic resources across the sagebrush biome, their critical importance to sustaining sage-grouse populations, and developed cutting-edge tools to inform conservation investments and evaluate their outcomes.
Science partnerships with the IWJV are quantifying spatio-temporal dynamics and trends of surface water, wetlands, and irrigated habitats across the region to inform local and regional habitat conservation and management strategies. We work with partners to link these hydrologic and landscape data with the needs of migratory birds such as waterfowl, sandhill cranes, and white-faced ibis. We also collaborate with partners to integrate hydrologic, landscape, and biological data to quantify regional habitat conservation objectives for avian populations, develop conservation strategies and decision support tools, and evaluate conservation outcomes.
Social Science
Understanding the social science—interests, perceptions, values, and motivations—of key stakeholders in specific landscapes can serve to ground the IWJV's biological objectives and drive our partnership conservation initiatives (e.g., SONEC Working Wet Meadows Initiative, Water 4 Initiative, and Partnering to Conserve Sagebrush Rangelands Initiative). The IWJV recently engaged in collaborating with social scientists on human dimensions research to better understand the perceptions, motivations, and values of private landowners who manage wet meadow habitats as part of their agricultural operations. The IWJV seeks to integrate more social science into its work to support the production of applied and actionable science for the conservation of bird habitats.