Project Klamath: Saving a Watershed in the Climate Change Era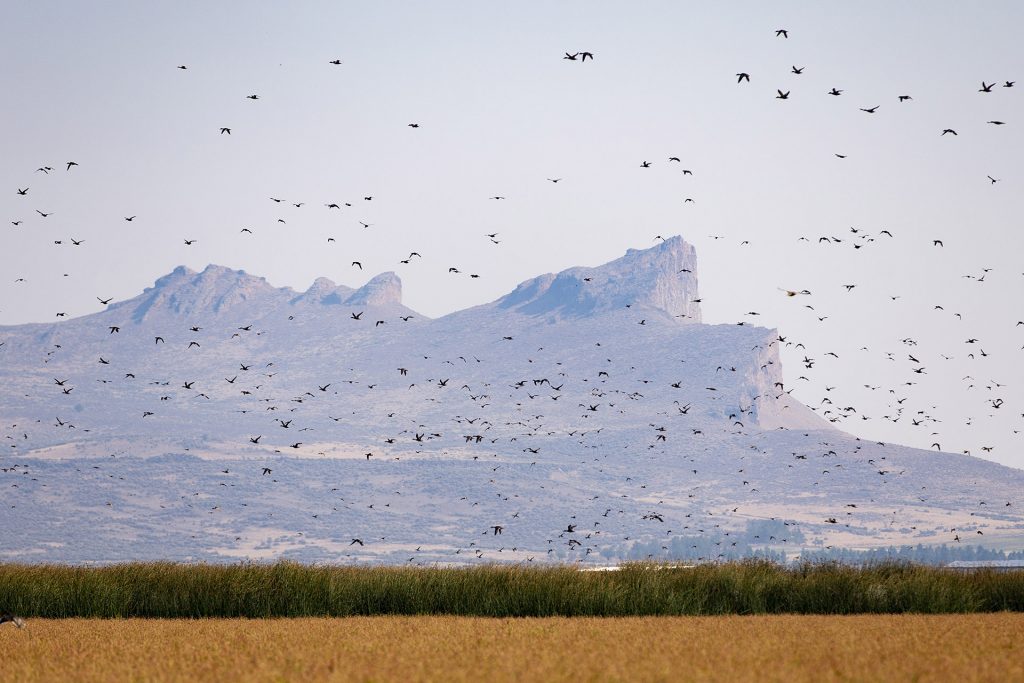 Article by Alex Schwartz, photos by Arden Barnes
This is an excerpt from the second in a series published by the Klamath Falls Herald and News in partnership with Report for America and the MIT Environmental Solutions Journalism Fellowship. The IWJV republishes this section of the article "Fish and Chips" here with permission from the author and encourages our audience to read the rest of the article—and the entirety of the Project Klamath series—for a fresh and thorough take on the ins and outs and ups and downs of the water crisis in the Klamath Basin.
F
rom the watershed's perspective, the Klamath Project — and all the basin's parched wetlands that now grow rows of potatoes, hay and horseradish in place of tules, fish and ducks — is less a chokepoint than a disconnected vital organ. All on its own, this place once filtered and slowly released billions of gallons of water from the desert to the ocean, sustained hundreds of species in a floating jungle and gave rise to civilizations whose petroglyphs sit high up on volcanic outcroppings that were once islands in a vast inland sea.

Project irrigators consistently call for replacing ESA-driven, single-species management with ecosystem management in the basin. But that won't be possible if the project — now an economic and agricultural powerhouse — remains carved up and segregated from the rest of the system.Instead, what if the humans who live in the footprints of those former wetlands could help bring them back to life? What if they could mimic the project's ancient role as the liver and kidneys of the basin?
Some say that if water needs to always flow here, it needs to flow out, too — and it must benefit more than just farmers if the land is to remain viable in the future. There's just not enough water in the system for farms and ecosystems to receive separate allocations. Reintegrating these two objectives could keep everyone whole, even in drought.
To serve the proverbial plate of salmon and potatoes, of smoked suckers and beef, the lines between land and water have to blur on farms and ranches throughout the basin.
And in the Klamath Project, they've already started to.
For the birds … and the farms
Marshall Staunton, a retired farmer from Tulelake, once visited an environmentalist friend who lived in Eugene. She took him up to Spencer Butte to look out over the city, where the Willamette River once meandered through a valley of camas fields and a Kalapuyan village. That history was unrecognizable, however, as the city splayed out below him — an expanse of asphalt, buildings and bridges. He remembers the view being beautiful.
Several days later, Staunton took his friend up to Sheepy Peak, which separates the Tule Lake Basin from the Lower Klamath Lake Basin. Gazing out over the grid of wetland units and agricultural lease lands on Lower Klamath National Wildlife Refuge, and the canals and fields of Klamath Drainage District to the north, he explained how the entire area used to be covered by a massive, shallow lake. His friend was disappointed.
"It's just so sad that they've destroyed nature," Staunton remembered her saying. He was surprised — hadn't they just looked out over a city that completely masked the natural environment upon which it was built?
"It still sticks in my craw," Staunton said. "You're going to gasp at my valley because you can see nature and what it used to be? We haven't destroyed it so badly that you can't see it."
Staunton has worked to reconcile the Klamath Project's agricultural promise with the wholesale destruction of wetlands that created it. His grandfather Webb gave up stockbroking back east in the early 1920s to homestead off of Hill Road and run a duck hunting lodge. Now his nephew, Marc, runs Staunton Farms, one of the larger potato operations in the basin.
Marshall Staunton helped sustain a partnership between project farmers and the wildlife refuges, which are hooked up to the project's plumbing and depend on it for water. Agricultural lease lands — areas of the refuge where farming is allowed, as long as it aligns with the U.S. Fish and Wildlife Service's goals to provide food and habitat for migrating birds — made up about 22,000 acres of Lower Klamath and Tule Lake refuges by the mid-20th century. In exchange for the use of that rich, coveted ground, farmers leasing those lands agreed to leave a certain percentage of their crops in the field as bird food.
But over time, the soil's bounty faded. While producers increased chemical inputs to retain crop yields, the wetland units on the refuges proper remained stagnant, stunting aquatic plant growth. The solution, as it turned out, was to integrate the two practices.
In the 1990s, a lease land plot on Tule Lake Refuge became so infested with nematodes that almost no chemicals could get rid of them. Agricultural researchers from the Intermountain Research and Extension Center in Tulelake had found some success with leaving infested fields fallow, but Fish and Wildlife wanted to see if flooding the field would work instead.
The Service hoped the land could provide waterfowl habitat while simultaneously killing pests, and the advisory committee governing the leaselands (which included Staunton) was all for it.
"We agreed, 'Hey, let's try flooding it,'" Staunton said.
Staunton and his brothers were the first to lease that field after the Service had inundated it for several years, and they planted potatoes in the drawn-down wetland. Many farmers were skeptical, but Staunton said it turned out to be one of the most productive fields he'd ever worked on.
"We had never seen a yield like that," Staunton said. The temporary restoration of a sliver of old Tule Lake had largely eliminated pests and disease, greatly reduced the need for chemical inputs and boosted the quality and quantity of potatoes.
Just two or three years of mimicking a wetland had revived the field's very soils, while also providing crucial habitat for waterfowl. Staunton said he spoke so highly of the arrangement that, by the time his family's lease was up, someone else had put in a higher bid on that ground.
"I bragged it up left and right, and of course we lost the lease," Staunton said. "My brothers wouldn't talk to me for a month or two."
Following that success, Fish and Wildlife began implementing the Walking Wetlands program throughout the refuges, temporarily flooding as much as 1,200 field acres for between one and four years at a time. Because of their lower disease and pest levels, the drained fields became especially popular among organic farmers.
Farmers in the program had so much success that Walking Wetlands started to pop up on private ground outside the refuge as a kind of mobile soil revitalization service. Farmers who took a field out of production and turned it into a wetland could farm an equivalent acreage on the refuge's sharecrop lands, where they'd leave a quarter to a third of their grain in the field for migrating birds.
But dry years have stunted this process, with the refuges receiving little to no water during Klamath Project curtailments. Farmers and birds have lost out.
"It was huge. People were really liking it," said John Vradenburg, supervisory biologist for the Klamath Basin National Wildlife Refuge Complex. "But now it's falling off the table."
To keep the practice going, conservation groups have begun to work with irrigators on private lands with more reliable access to water. This spring, the Klamath Basin Farming and Wetland Collaborative, led by waterfowl conservation group Ducks Unlimited, received a $3.8 million grant to help pay farmers to turn their own fields into wetlands or leave behind some of their grain.
Most of those projects will focus on land in Klamath Drainage District, where many producers already irrigate in the fall and winter, when water is less in demand. The district also has a state water right permit separate from the Klamath Project, which they used to divert about 33,000 acre-feet from the Klamath River this summer — these were the only fields in the project irrigated with surface water originating in Upper Klamath Lake.
The situation is much different on the adjacent Lower Klamath Refuge, which received only a pittance of water this summer. Despite its wetlands predating the very existence of the United States, it has the lowest-priority water right in the project. Chris Colson, regional biologist for Ducks Unlimited, said this program should be enough to replace up to 30% of the loss in food production caused by chronic lack of water on the refuge.
"It's the recognition that birds don't care," Colson said. "Ultimately it's not about saving the refuge necessarily — it's about providing for waterfowl. We haven't stopped working on the refuge, but we recognize that we need to work with the irrigators if we want to continue to meet our waterfowl objectives."
Staunton envisions a more permanent expansion of Walking Wetlands throughout private lands in the project: Farmers could enter into contracts with Fish and Wildlife to take a portion of their land out of production for compensation, flooding it in wet years and fallowing it in dry ones. It would be similar to a conservation easement, only producers would be able to rotate the wetland throughout their ground to get the agricultural benefits.
"If it's one sixth of your farm and it moved around, it wouldn't matter because you just factored it into your rotation," Staunton said.
Wet years would allow the network of flooded fields to recharge groundwater and provide waterfowl habitat, while dry ones would concentrate most of that onto the refuges. But it would all require a reliable project irrigation supply to work.
"You're much more willing to experiment if you know that things are going to be OK," said Tulelake Farmer Ben DuVal, president of the Klamath Water Users Association. "But why do I want to continue to make those kinds of investments if I don't know if I'm going to have water next year?"
Many project farmers care deeply about where they live and want to help the species they share the basin with. Tulelake Irrigation District, for example, used pumps and even a helicopter to consolidate all the water on Tule Lake Refuge into a healthier wetland unit to reduce the risk of avian botulism this summer. Aided by an additional infusion of water from Reclamation and abundant wildfire smoke, they succeeded — refuge biologists remarkably recorded zero cases of botulism this year.
Staunton thinks punishing farmers for the federal government's sins isn't helping anybody. He said programs like Walking Wetlands, which provide financial and environmental benefits through reintegrating agriculture into the landscape, are better ways to protect species than the regulatory hammer wrought by legislation like the Endangered Species Act. The trick would be coming up with ways to farm cooperatively with the basin's imperiled fish as well as its birds.
"It would've been a lot better if the ESA was set up so that those that are in the best habitat would be incentivized to take care of that habitat," Staunton said. "Let's not make a critical habitat where you're scared to death of being in critical habitat — let's make it so that if you can still support wolves, bears, C'waam and Koptu, you're going to get some reward for that."
Weaving agricultural lands back into the environment of the basin is a tricky task but not an impossible one. As Staunton saw from the top of Sheepy Peak, this land — though carved, drained and altered forever — is not past hope.
Read the rest of this story here and be sure to check out the rest of the Project Klamath series.