This plan of work reflects science that is to be released in 2021.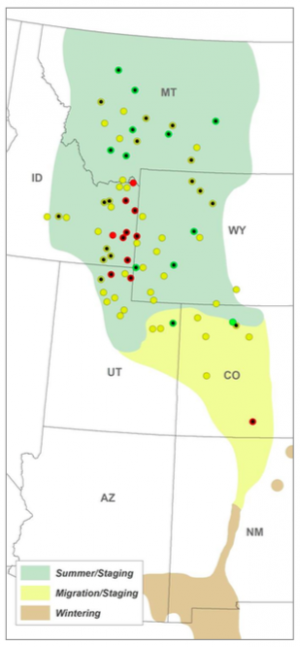 Have you ever wondered why sandhill cranes choose certain parcels of land over others as they migrate between wintering grounds and summer breeding habitat?
A group of scientists from the Intermountain West Joint Venture, Idaho Department of Fish and Game, U.S. Fish and Wildlife Service's Migratory Bird Program, and the University of Montana Wildlife Biology Program – Avian Science Center hope to find the answers to this question. In 2015, these scientists implemented a monitoring and evaluation project to document landscape change influencing the Rocky Mountain population (RMP) of greater sandhill cranes (Grus canadensis tabida) by mapping range-wide fragmentation rates in keystone summer and staging habitats. The study links regional crane population data to patterns of land-use change and annual wetland conditions since 1996 to identify key stressors that drive demographic trends on private and public lands.
The results of this study will help flyway councils and other partners inform how they manage the habitat that supports sandhill crane populations. Ultimately, the project will help prioritize conservation actions that strategically address landscape-level stressors and maximize the long-term viability of this important population of sandhill cranes.
Read the study's research plan below and check back later in the summer of 2020 for the full results of this study. Click the green "Subscribe" button at the top of this page to stay informed through our newsletter.