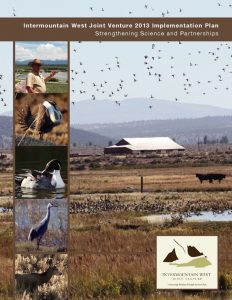 The Implementation Plans of the 18 U.S. Habitat Joint Ventures are intended to provide Joint Venture (JV) partnerships with a roadmap for the protection, restoration, enhancement, and management of habitat needed to support populations of birds at desired levels. In simple terms, the plans describe the most important areas for birds within the JV and define what needs to be done in a coordinated fashion to conserve habitat as needed to support bird populations at continental goal levels.
The IWJV 2013 Implementation Plan: Strengthening Science and Partnerships (Plan) has been released. The Plan – the third in the history of the IWJV – constitutes a major revision of the 2005 Coordinated Bird Conservation Plan (2005 IWJV Implementation Plan). It embodies a new approach and business model, founded on the principles of strategic habitat conservation and rooted in the establishment of JV-wide bird conservation priorities and habitat objectives with explicit connections to continental bird population objectives.
Biological planning and conservation design toward defensible habitat objectives has been underway for several years for certain groups of birds in certain landscapes of the Intermountain West.  For example, the Plan identifies habitat needed to support spring-migrating waterfowl at North American Waterfowl Management Plan goal levels in southern Oregon and northeastern California. Likewise, it includes the results of the most detailed conservation strategy ever developed for shorebirds at the Great Salt Lake, one of the most important stopover sites for shorebirds in the Western Hemisphere.
Remaining data gaps exist and hinder our ability to develop habitat objectives or spatially explicit decision support tools for many priority species across the region. Yet, this Plan serves as an important benchmark in the evolution of the IWJV, consolidating our current knowledge of priority bird species, species-habitat relationships, and the quantity and location of habitat needed to support these populations at goal levels.
Please take the opportunity to read the Plan and discover links that are meant to help further bird habitat conservation in your area.
NOTE: The entire plan (ATTACHED BELOW) is 35 MB. Individual chapters are also available for download.
IWJV 2013 Implementation Plan: Entire Plan
Chapter 2: Characterization of the IWJV Landscape
Chapter 3: Strengthening the Biological Foundation
Chapter 8: Habitat Conservation Strategy