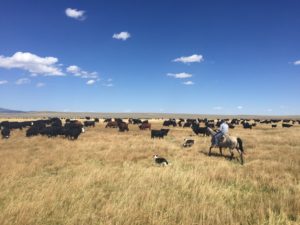 "Our private lands are the least expensive wildlife refuges available."
— George Shine, Oregon Rancher
Public lands comprise around 70 percent of the Intermountain West's iconic landscapes. However, 70 percent of the region's wetlands—including important sagebrush mesic habitat—occur on private land. These water-rich areas are frequently associated with irrigated agriculture and often occur on working ranches and farms in landscapes important to wildlife, native fish, and people.
Conservation measures implemented on private land can have whole-ecosystem benefits that ripple far beyond the boundary fence. What is more, these efforts don't have to come at a high cost to the landowner: integrating conservation into practice can actually improve the bottom line in the long run. Below are several private lands conservation success stories, as well as some resources for landowners and private land partners.
Resources for Private Lands Conservation
Science
Flood irrigation on private working lands sustains valuable wildlife habitat for migrating and breeding waterbirds and sage grouse. The Intermountain West Joint Venture and its partners sought to gain a deeper understanding through a research project about rancher thoughts and experiences regarding flood irrigation and the factors that help or hinder the continuation of this agricultural practice.
An impressive 85 percent of sage grouse leks cluster within six miles of wet summer habitats. This study shows the importance of sustaining this vital habitat through collaborative conservation among landowners, ranchers, and farmers.
A limited number of key private land wetland sites are critical for sandhill cranes during their spring and fall migrations. This study looked at surface water changes over 35 years at 26 of these key sites. The resulting maps allow biologists and land managers to determine if individual wetlands are becoming drier, wetter, or have remained unchanged, and focus conservation efforts where they'll have the greatest impact.
Funding
The North American Wetlands Conservation Act (NAWCA) grant cycles provide critical funding to wetland conservation projects implemented by public-private partnerships. NAWCA Council Staff anticipates significant carry-forward funds being available in 2021 grant cycles.
The Farm Bill supports conservation efforts of America's farmers and ranchers through reauthorization and expanded flexibility of NRCS conservation programs. NRCS offers financial and technical assistance through conservation practices, activities, and enhancements to help agricultural producers make and maintain improvements on their land.
The Partners for Fish and Wildlife Program is an arm of the U.S. Fish and Wildlife Service (USFWS) that connects landowners who are interested in habitat conservation with tools for financial and technical assistance. Projects are voluntary and protect the landowner's ability to manage their working lands.
Western Communities Conservation
Family Farm Alliance is a powerful advocate for family farmers, ranchers, irrigation districts, and allied industries in seventeen Western states. The Alliance is focused on one mission: To ensure the availability of reliable, affordable irrigation water supplies to Western farmers and ranchers.
Partnerscapes is a grassroots movement of private landowners working with agencies, non-profit organizations, and policymakers to collaborate on conservation projects to sustain our working landscapes for present and future generations.
Western Landowners Alliance advances policies and practices that sustain working lands, connected landscapes, and native species.
The Natural Resources Conservation Service's Conservation Agricultural Mentoring Program (CAMP) matches experienced producers with new NRCS employees to grow critical relationships with producers and advance employee knowledge of production agriculture and natural resources in their local area.
As far as the NRCS goes, this factsheet shows how common NRCS practices can be part of a whole-landscape approach to private lands conservation.
Books/Media
Saving Species on Private Lands explores the heart of private lands conservation, specifically species and habitat conservation. This book is a useful tool for those interested in learning more about private lands conservation, whether a farmer or rancher or simply someone interested in land conservation in the Intermountain West.

Up in Smoke: Fire and Invasives on Western Rangelands is a video introducing the conservation challenge of invasive annual grasses in sagebrush habitats and the rangeland fire cycle created by them. It also looks at the public-private partnerships needed to address this threat.
The Land Conservation Assistance Network's website is a comprehensive resource for farmers, foresters, ranchers and other landowners who wish to make more responsible, sustainable decisions about the use and future of their land.
Conservation Success in the Intermountain West
Private lands conservation work is often a multi-year process that brings together multiple stakeholders who pull together to invest in the future of a ranching or farming operation—and the habitat it supports. A ranch in Northeastern California did just that, emphasizing natural infrastructure updates like BDAs and riparian restoration—and saw dramatic changes to its water and forage resources.
Partnerships between private landowners and public land managers are critical for wide-scale habitat conservation in the Intermountain West. In the Klamath Basin in southeastern Oregon, National Wildlife Refuge programs help farmers and ranchers provide habitat for migratory birds and waterfowl on their land while enabling them to reap the benefits of farming organically on-refuge.
Restoring a native species of bird to a landscape requires cross-boundary collaboration between private landowners and public land managers. This article tells the story of northeastern California ranchers working with public land managers to remove conifers and improve grazing practices in order to restore the Greater sage grouse in this area.
Landowners in Idaho's Lemhi Basin work together with state, federal, and NGO partners to keep water in a stream that is vital for area farming and ranching operations. The stream is also important tributary habitat for Endangered Species Act-listed fish.
Working land conservation easements in the southern Oregon-northeastern California region help ensure private lands continue to be valuable for both agriculture and migratory birds. Thanks to a Regional Conservation Partnership Program (RCPP) grant from the Natural Resources Conservation Service (NRCS) and plenty of partner support, one northeastern California ranch was able to secure a conservation easement to protect the land's agricultural and wildlife habitat values.
Once considered a waterfowl mecca, the San Luis Valley has experienced changes in land use and water availability that have reduced the amount of nesting and migratory bird habitat. A group of waterfowl hunters and conservation enthusiasts collaborated with the U.S. Fish & Wildlife Service's Partners for Fish and Wildlife (PFW) program to restore 530 acres of working wet meadow habitat in the southern Colorado valley.
The Hellyer family has raised grass, alfalfa hay, and Black Angus cattle on the Sweetwater River in Wyoming for generations, a landscape that is vital not only to a robust population of sage grouse but a host of other species. By partnering with the U.S. Fish and Wildlife Service's Partners for Fish and Wildlife program, the Hellyers received both technical and financial assistance to complete specific projects on their land—most of which targeted rangeland health to help ensure a long-term sustainable livestock operation and fish and wildlife that rely on these areas.
In the Bear River Basin, the Ferry family works with the U.S. Fish and Wildlife Service's Partners for Fish and Wildlife program to use rotational grazing to stunt the growth of invasive plants, resulting in open water areas for waterfowl and shorebird use.
Arctic grayling in Montana's Big Hole River were close to being listed under the Endangered Species Act when local ranchers and agency partners came together to keep water in the river while preserving the Big Hole Valley's ranching way of life.
Due to his cross-boundary work on both private and public lands, this biologist's position is supported in part by the Partnering to Conserve Sagebrush Rangelands effort between the Bureau of Land Management and Intermountain West Joint Venture.
In the Great Basin, sage grouse must walk twice the distance to find mesic habitats compared to other sage-grouse in the West. Here mesic habitats are located in two places: at low-elevations in privately owned riparian wet meadows, wetlands, or agricultural fields, and at high elevation in publicly owned rangelands kept green by melting snowpack.
Working, healthy sagebrush landscapes – private and public – are supporting communities, ranchers, and their families, and provide society with valuable services. Learn about how West Box Elder County in Utah finds that balance.