Restoration a Part of Ranching in Colorado's Yampa Valley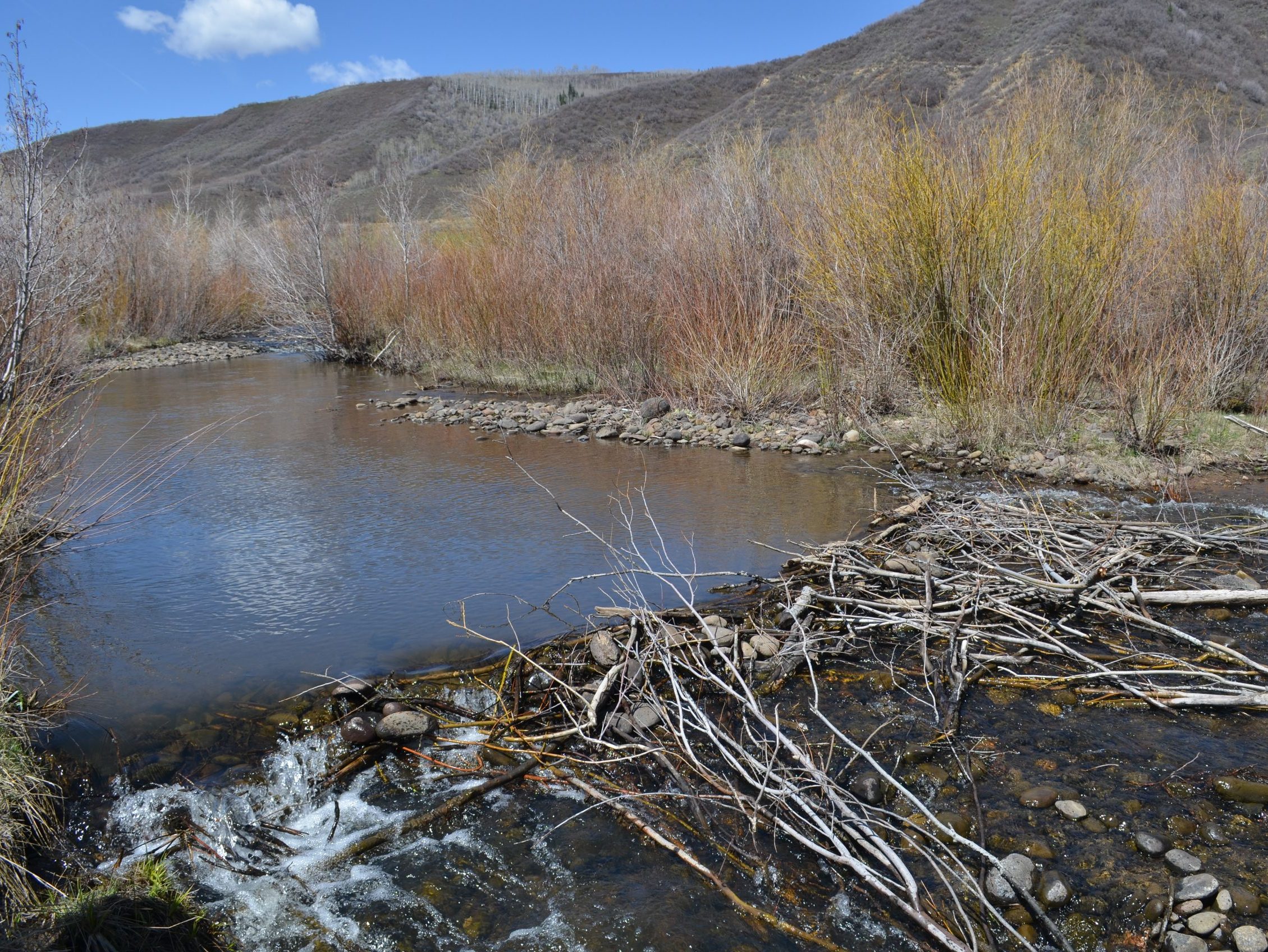 As far as the Knott family remembers, beavers have always been present on their ranch. Their dams, built across the sinuous channels of Trout Creek, slow and alter the flow of the water running off the snowy peaks of Colorado's Flat Tops range. Occasionally, the Knotts will have to remove an attempted beaver dam in an irrigation ditch, but for the most part, it's a symbiotic existence between this fifth-generation ranching family and the furry, amphibious mammals. 
The 2,400 acres owned by the Knotts back up to the Routt-White River National Forest. Trout Creek cuts through their land as it winds its way to the Yampa River, which is, in turn, a major tributary to the Colorado River. In the Yampa River Watershed, the majority of the riparian zones and nearby wetland areas are on private ranchland. As a result, it often falls on landowners like the Knotts to act as stewards of this important habitat and the water that feeds it. Ranchers' lives and livelihoods are intimately tied to the health of the land, which is why they find it important to build ecological and economic resiliency into their operations.
"We invest in the ecological systems of the property so the land and our operation can better withstand change," said Megan Knott. "That way, when there's a drought, we can better recover. We create grazing systems that retain moisture over the winter and firebreaks so we can withstand fire when it comes."
Megan Knott also works as the Director of Stewardship for Colorado Cattleman's Agricultural Land Trust (CCALT), where she focuses on partnerships with ranching families like her own across the state. Many of these ranchers are seeking ways to incorporate small infrastructure projects—from stock tanks to updated irrigation infrastructure—into their operations to build resiliency that offers economic and ecological benefits. 
(1) Megan, Tyler, and Ella Knott stand in front of Trout Creek as it flows through their property. (2) Colorado's Flat Tops loom above the Knott Ranch. (3) Trout Creek near one of the project sites.
Environmentally, sustaining upper-headwater health through private-lands projects like these provides groundwater recharge and the late-season return flows important to downstream users. From the business side of things, using agricultural infrastructure projects to increase operational efficiency makes it easier and less costly in the long term for farmers and ranchers to do their jobs. That efficiency could mean the difference between staying in and going out of business, especially as Colorado River Basin water users assess the feasibility of options like demand management in the face of long-term drought. 
Despite the economic and ecological resiliency these projects provide, Sally Ross, the Restoration and Resiliency Program Director for CCALT, said landowners often struggle with their cost—and having the capacity to implement them. Few funding mechanisms exist in the form of grants from agencies or private foundations. In part, she noted, that that's because it's hard for people to make the link between replacing a leaky culvert in someone's private pasture and increasing return flows to the river.
"If we can spread the message that these small private projects are critical to the bigger ecological picture—that the new culvert is improving water quality and keeping more water in the river than a leaky one would—then we could really make a difference," she said. 
Operational resiliency has become increasingly important as weather patterns become more unstable due to climate change. For Knott Land and Livestock, for instance, there's been a trend toward less snowpack and drier and hotter summers, which has direct effects on the water they depend on for growing hay for their cattle. On a more immediate basis, the family is facing another challenge posed by Mother Nature: the threat that Trout Creek will erode its way into an access road and irrigation ditch. The road serves as a route to move cattle to a higher-elevation pasture and, if nothing changes, the creek could erode the bank away entirely and cut off that critical grazing access. 
To address these site-specific issues, and to generally improve river health in the intervening miles, the Knotts are collaborating with Trout Unlimited (TU) to install a combination of low-tech and more traditional instream structures.  Brian Hodge, a biologist for TU who is working on the project alongside the U.S. Fish and Wildlife Service and Natural Resources Conservation Service (NRCS), said that the low-tech, process-based work could involve anything from installing log structures to using woody vegetation and cobbles to raise channel bed elevation.  The low-tech structures will be temporary and designed to work with and without beavers.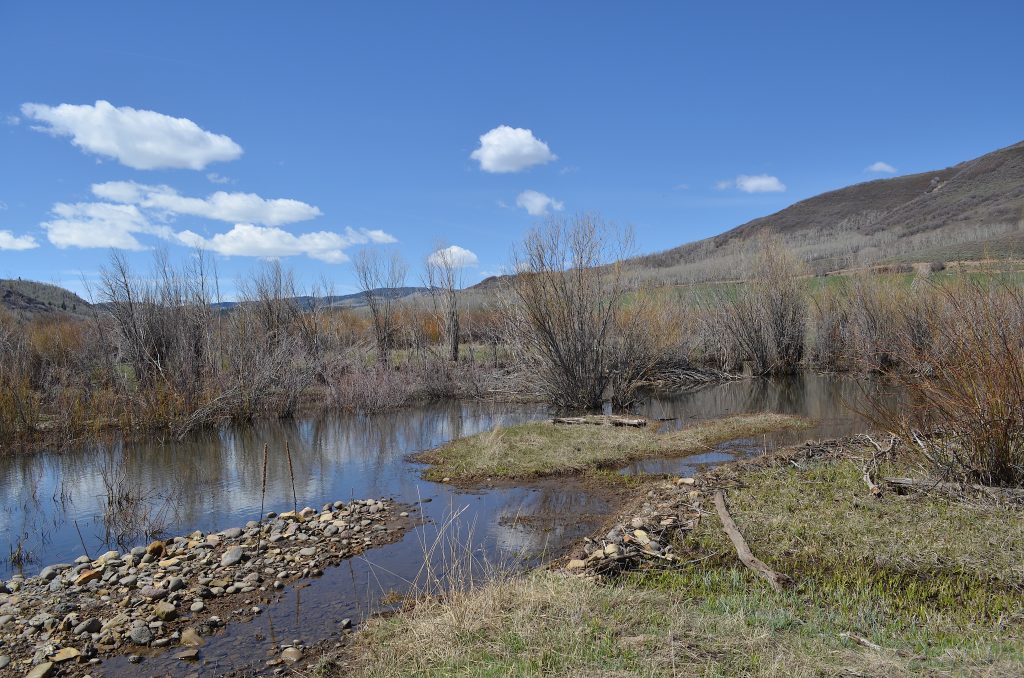 Besides reducing pressure on ranch infrastructure, low-tech solutions will reduce stream power, reconnect the stream with its floodplain, and promote riparian health.  Doing so will reduce solar and sediment inputs into the creek's otherwise clear, trout-inhabited waters. It will also enhance the floodplain's ability to hold and slowly release water, which could be a boon for the Knotts—and their neighbors downstream—in a low snow year. Hodge said the overall effect will be an increase in the innate resilience of the Trout Creek corridor.
"We're going to use a low-tech, process-based approach where we can, because it's cost effective and adaptable", he said.  "If we can help [the Knotts] protect ranch infrastructure and improve river health, that's a win-win."
Infrastructure Improvements for Wildlife Habitat
Several miles downstream of the Knott's property, outside of Hayden, Colorado, a flooded meadow on the Carpenter Ranch features a smattering of ducks and white-faced ibis. Cows munch the green grass just across the fence in an unflooded pasture. By late afternoon on a mid-May day, hints of summer are in the air. The Yampa River, which cuts through the wet meadows and sagebrush hills of this ranching valley, is already rising toward peak runoff. Hayden's ranchers and farmers are harnessing the seasonally high flows to divert water into their irrigation ditches and onto hay meadows. As evening arrives, dozens of boreal chorus frogs sing steadily louder and a pair of pronghorn antelope leap from an afternoon hideout and head toward cottonwoods along the river.
Wildlife like this depends on wet meadows and flood-irrigated fields like the ones found on the Carpenter Ranch, which is owned and managed by The Nature Conservancy as a working cattle ranch. Keeping water on these lands is also important for agricultural communities like Hayden, where landowners depend on flood irrigation to produce hay livestock need to survive harsh mountain winters. And ultimately, the river waters maintain the wetland and riparian habitat that keep this otherwise arid system functioning in the first place.
(1) Cows on the Carpenter Ranch graze across the fence from where white-faced ibis use a flooded field. (2) An irrigation ditch winds through Carpenter Ranch. (3) Railroad tracks cross the Yampa River near the diversion that provides water to the Carpenter Ranch. (4) Cottonwoods and willows provide cover for wildlife on the Carpenter Ranch.
Jennifer Wellman, the local Freshwater Project Director for the Conservancy, crosses one of the ranch's fields toward the headgate that diverts water from the Yampa's main channel onto the property. Pausing at a fence gate, she points out a smaller, freshly dug ditch. It will carry some of that water onto a pasture that hasn't been flooded in years, helping the rancher who leases the property provide more and better forage for his cattle. 
"Putting water on this upper pasture will not only improve the grazing for cows, but it will also create more habitat and forage for the wildlife that uses this ranch," Wellman said.
It seems simple, but investing time and resources to dig a new ditch—or to strategically place some willow sticks and gravel in a creek—can have lasting benefits for ranchers and the environment. Plans to update the Carpenter Ranch's diversion ditch at its intake have similar consequences: enhancing the rancher's ability to operate while improving how efficiently the water gets to where it needs to go. Another project, which will create a riffle just downstream of the intake, will mean not having to pile rock and sediment across the river each year to keep the water high enough for ditch use. The project will also keep this section of the river free-flowing for the benefit of native trout populations, as well as a growing number of recreational boaters.
"We invest in the ecological systems of the property so the land and our operation can better withstand change. That way, when there's a drought, we can better recover. We create grazing systems that retain moisture over the winter and firebreaks so we can withstand fire when it comes." – Megan Knott
Multi-benefit projects like this one are a spot of progress as the people who call the Yampa Watershed home start dealing with the realities of climate change. Just as the Knotts have begun dealing with climate-related uncertainty at their family's operation, Megan Knott said the same has become an unexpected reality across the region.
"The Yampa is different in that there's traditionally been a lot of water compared to other areas of Colorado," she said. "We've never had to deal with a lot of the issues associated with long-term drought."
People across the watershed are looking toward creative solutions to meet these challenges head-on. Ross is working with landowners and community members in the Yampa Valley to coordinate restoration projects that support long-term land stewardship goals. Ross said that, with long-term drought becoming the norm across the West, those solutions often consist of simple restoration projects or infrastructure updates on private property.
"Lower water tables, dying forage, not being able to fulfill the water that you have a property right to—that's where the resiliency component behind restoration comes in," Ross said. "If you do have a number of drought years in a row, some of these small projects could keep you going."
Persistence, resilience, survival—whatever it's called, it has long been the name of the game in the Yampa Watershed and across the arid West. The Knotts know this, and so do the beavers and fish (and other wildlife) with which they share the water. As conditions become increasingly difficult and water becomes more scarce, it is more important than ever to drive both funding and organizational capacity to projects that help families like the Knotts continue to manage the land in innovative ways that benefit themselves, their communities, and the environment.