Restoration and Ranching on Witcher Creek Ranch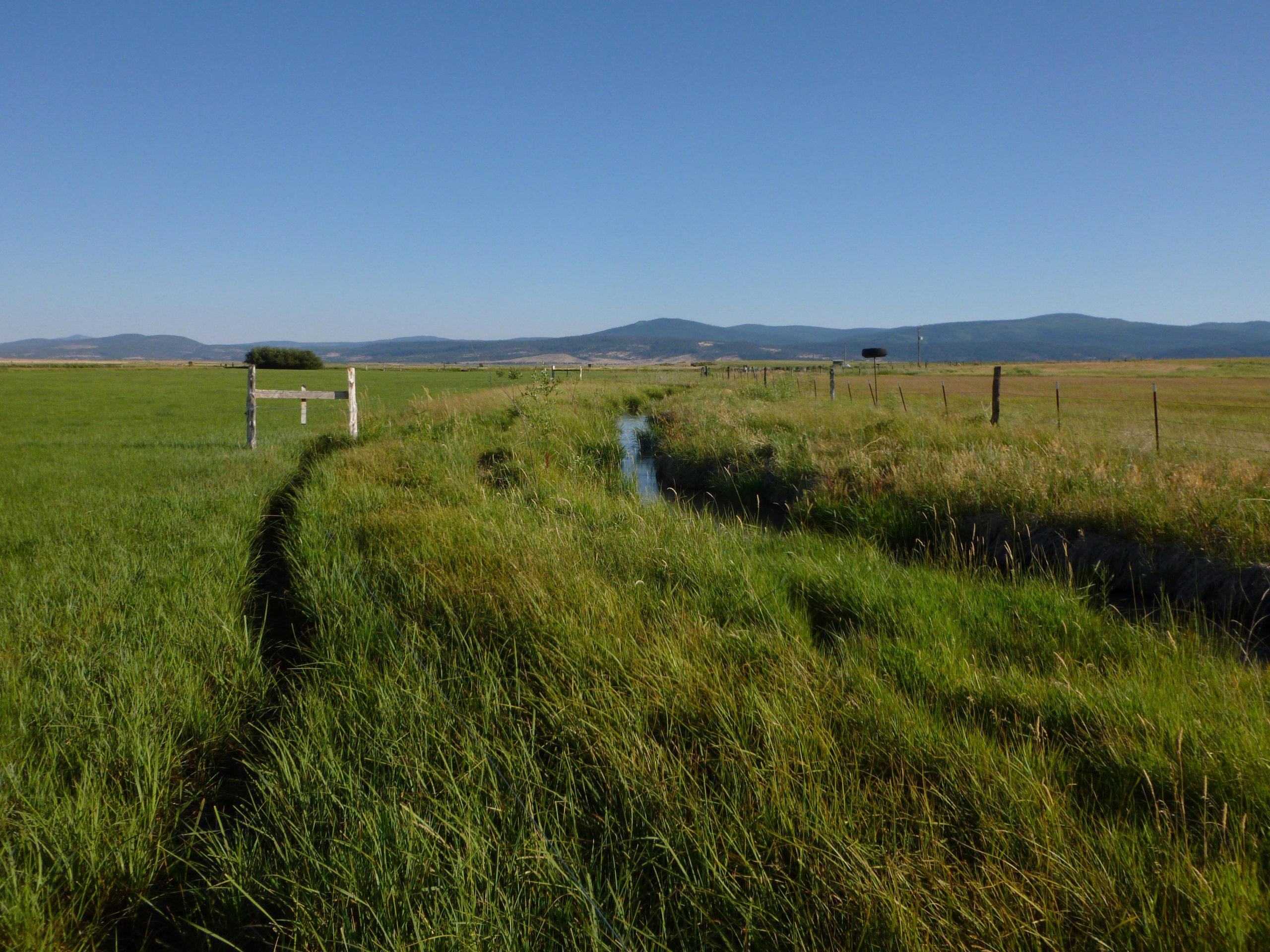 Article and photos by Glenn Nader, Witcher Creek Ranch, Canby, California
Editor's Note: Water 4 supports partnership-based conservation tailored to the unique opportunities and needs within landscapes, including conservation easements, agricultural flood irrigation infrastructure enhancements, fish and big game habitat improvement, and water management planning timed to habitat needs. This series of projects on a ranch in the Southern Oregon Northeastern California (SONEC) region, an area critically important to migratory birds who depend on working wet meadows for stopover habitat, is an excellent example of partners pooling their resources to enact meaningful, landscape-level change on private land. Here, rancher Glenn Nader shares his process as a case study in the power of simple infrastructure improvements that can make a world of difference.
The power of multiple conservation-focused programs and grants has allowed my family to make dramatic changes on our Northeastern California ranch. The Environmental Quality Incentive Program (EQIP) and Conservation Stewardship Program (CSP) from the Natural Resources Conservation Service (NRCS), the U.S. Fish and Wildlife Service's Partners for Fish and Wildlife Program (USFWS PFW), National Fish and Wildlife Foundation (NFWF) grant, California Department of Fish and Wildlife (CDFW) grant, and California Conservation Board grants greatly improved the sustainability of our ranch through reduction of cost of operation and addressing environmental issues that reduced any conflict with federal or state regulations.   
My wife and I traded our portion of a ranch in the Sacramento Valley that had been the family since 1872 for a ranch in Northeastern California in 1999. My grandfather and father had plans for the ranch in their head and that worked well for them, but that was a different time. When we acquired the ranch, we developed a ranch plan that considered wildlife and recreation along with sustainable grass and cattle production. This planning allowed us to obtain funding to make major changes that we could not otherwise afford with our agricultural income. 
We brought our plan before a team of specialists from organizations and agencies including the University of California Cooperative Extension, NRCS, the local Resource Conservation District (RCD), USFWS, CDFW, and California Regional Water Quality Control Board. We reviewed the plan with each entity and led tours of potential projects. Each organization involved brought a different knowledge base and perspective that improved the restoration process. They also assisted in coordinating different grants for the local RCD to implement the projects on our ranch.
We were also fortunate to have Dick Mackey, a local rancher, serve as a mentor. Dick has been a cornerstone of the local RCD and also has done much riparian improvement work on his ranch. We attended several tours of his ranch, which guided us during our efforts to restore our riparian areas. 
The USFWS PFW Program played an important role by also taking on the environmental review and permits associated with the projects. This streamlined the process and allowed the local RCD to focus on implementation. We were also fortunate to have Point Blue join the process in 2014. Their biologist always had suggestions of things we had not thought about that brought value to our operation. We always looked forward to having the Point Blue biologist on the ranch to gain knowledge about wildlife enhancement opportunities.
After implementation, we initiated monitoring programs that included photos at different locations of the ranch to confirm that the restoration methods were making an impact. We've compiled those photos here to create visual documentation of the improvement of the ranch's natural resources over time. 
Restoring Bridge Field: Success with BDAs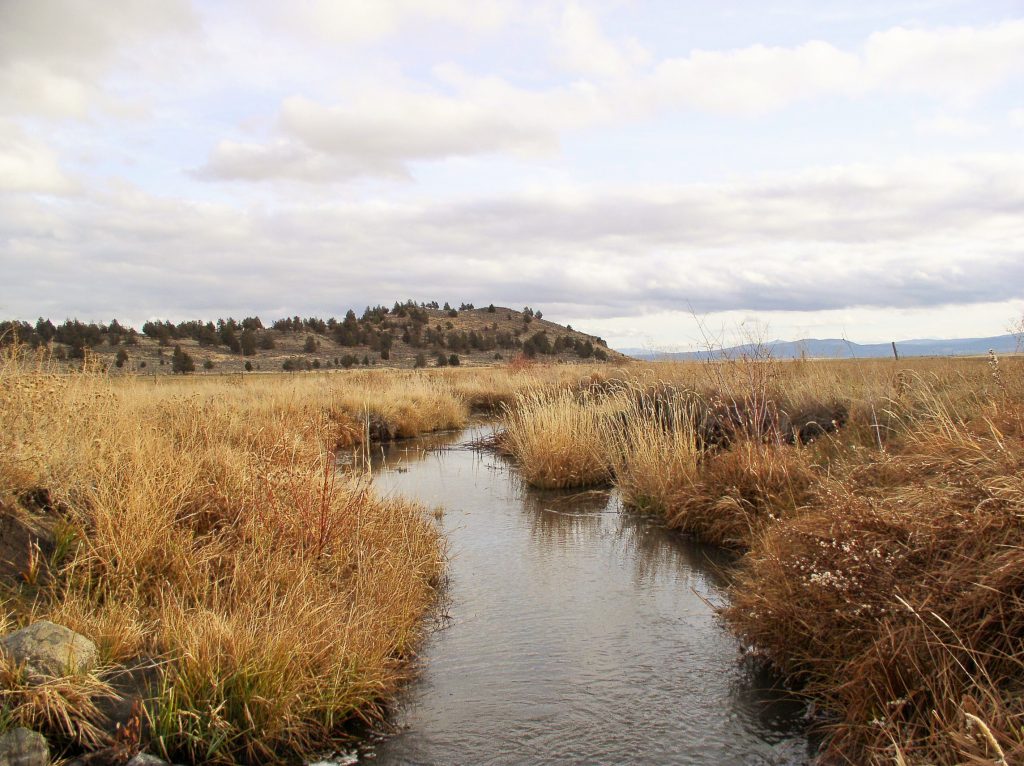 Witcher Creek, the stream that runs through Bridge Field, was down-cut as deep as 12 feet below the meadow. This caused soil erosion when the stream flooded and also dewatered the meadow during the summer. In 2001, we fenced off the creek to make a riparian pasture that was intensively grazed in May and rested from grazing the rest of the year to allow for grass and willow growth.
The USFWS PFW Program and CDFW Cantera grants funded the local RCD to construct 13 rock-drop stream-grade control structures on every one foot of elevation drop in the ¼-mile portion of the stream. What started as a suggestion by a Point Blue biologist in 2018 turned into an effort that allowed beavers to establish in the creek as a cheaper method to repair streams. The beavers have built on many of the rock structures and raised the water table in the meadow even higher, reducing the amount of irrigation needed.  We have a neighbor that has been managing beavers for many years along with his irrigated meadows on the ranch. He has used them to successfully restore his creek while still operating functioning diversions in the creek.
Utah State University has been working on the use of beavers in stream restoration. More information and potential workshops can be found at http://beaver.joewheaton.org/. USU scientists have also developed the concept of Beaver Dam Analogs (BDAs) as a method to build man-made beaver dams as a natural and cheaper method of stream restoration. BDAs are a middle ground for those who have concerns about beavers complicating ranch irrigation operations, as they provide many of the stream restoration benefits of beaver dams without the addition of the beavers themselves. We have now started trying these on the ranch.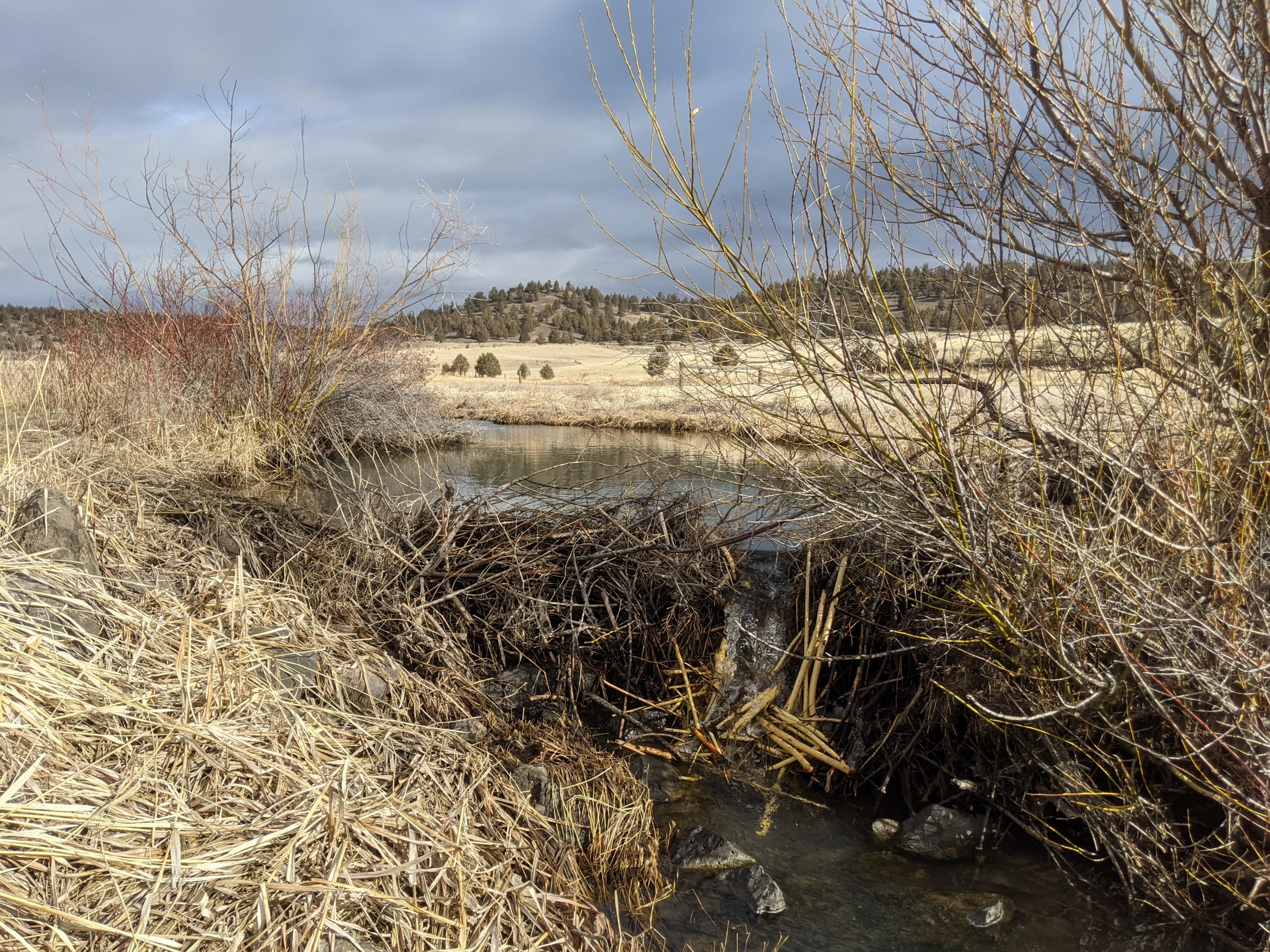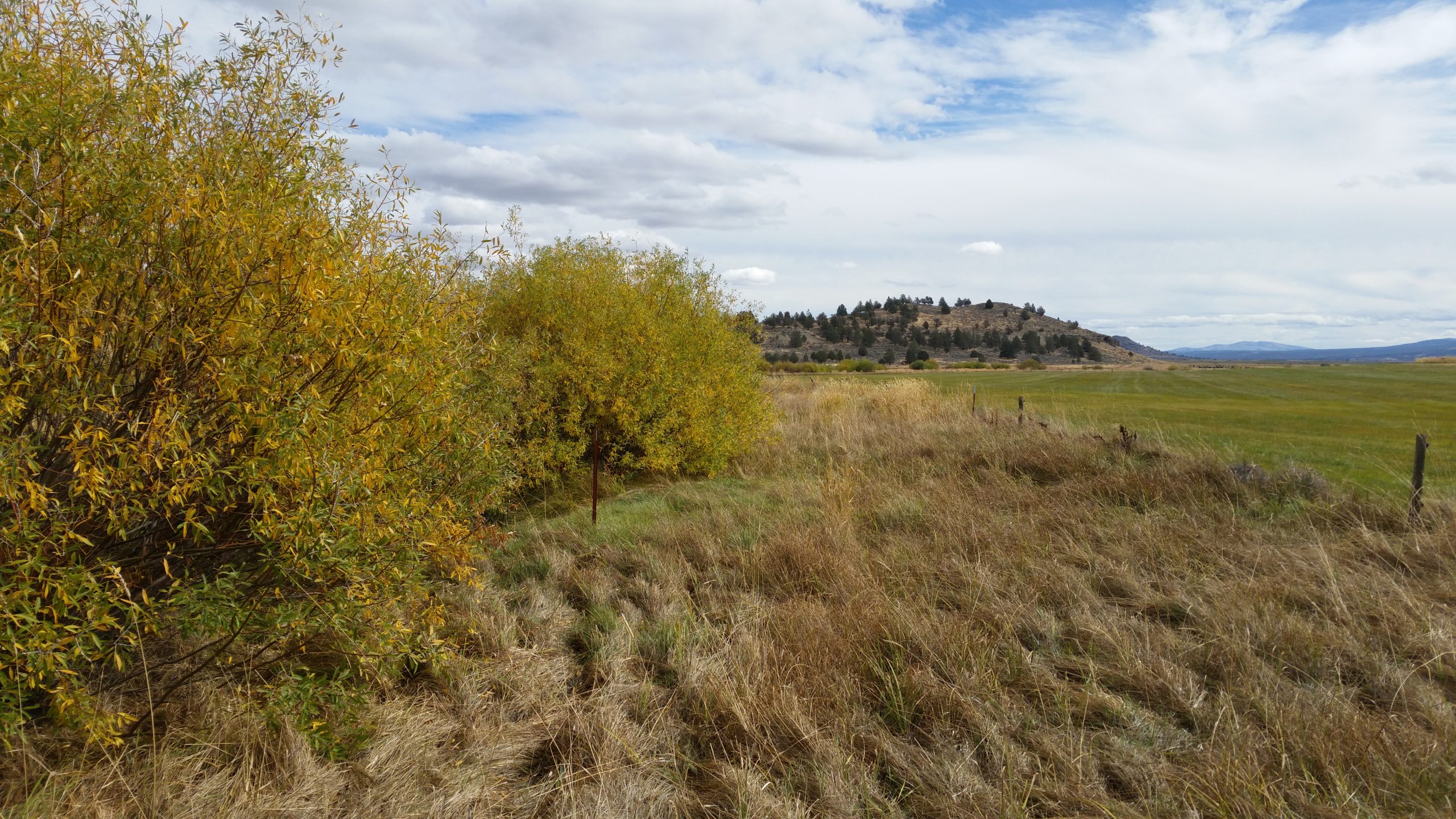 Dobe Swale Creek Meadow Restoration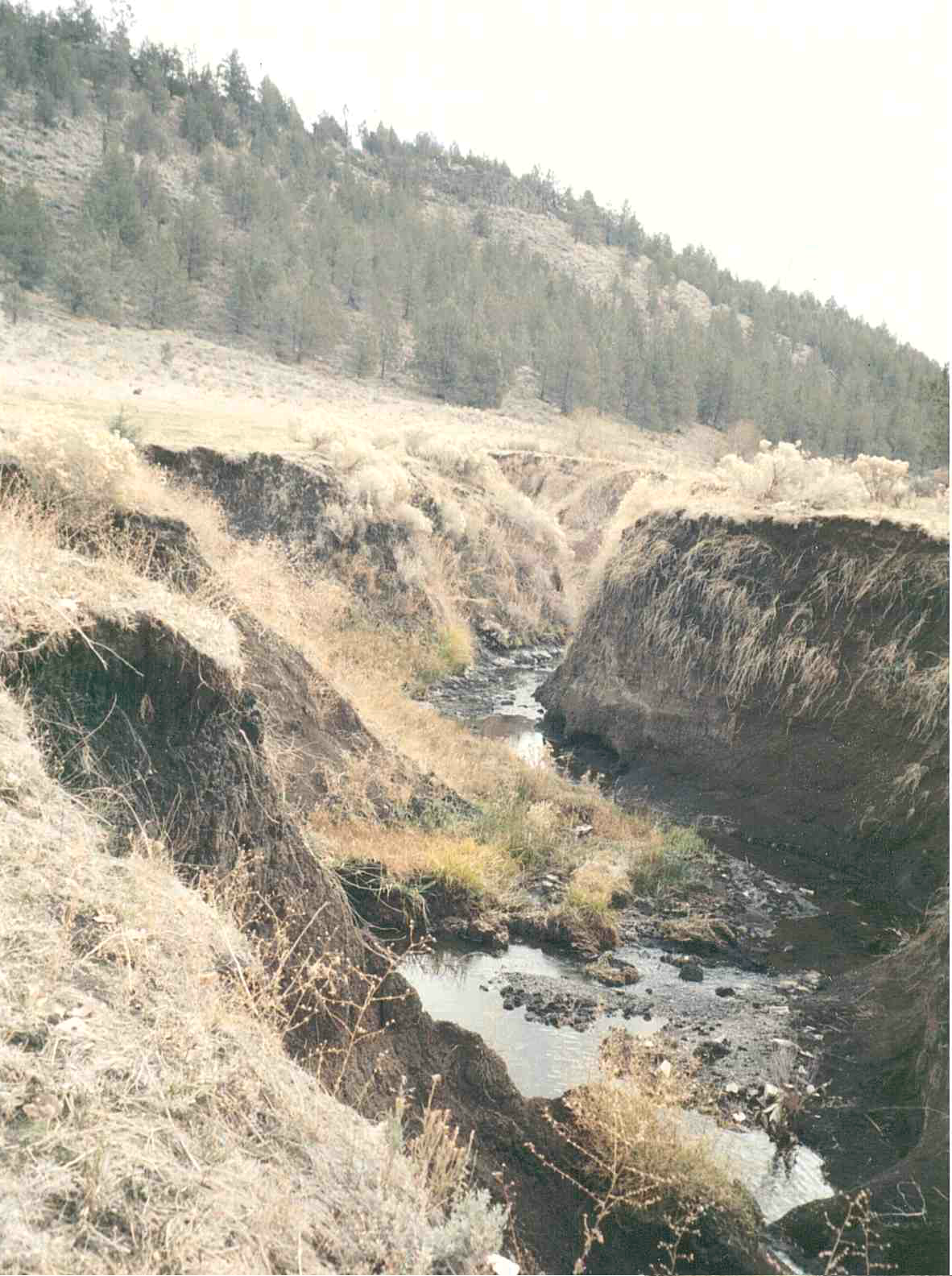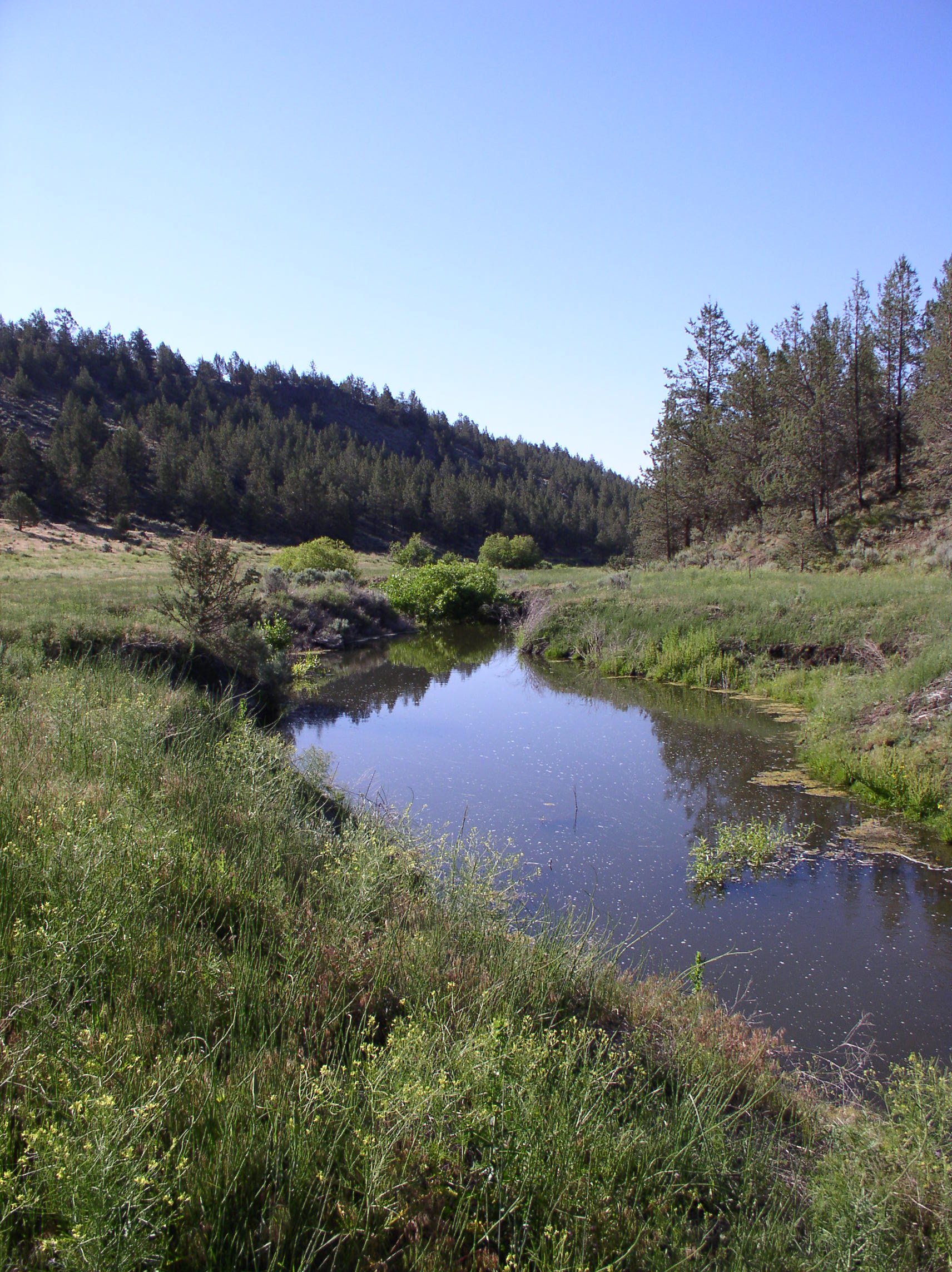 Another creek on the ranch, Dobe Swale Creek, had one and a half miles of stream with 80 acres of what was once a meadow, as well as part of a 1,180-acre juniper upland pasture. Since this creek area was the main water source and flat land in that pasture, the cows would spend most of their time there and would rarely use the remaining steep pasture. Thanks to the local RCD and other agencies, we were able to improve our management here as well. First, we used NFWF funds to fence off the 80 acres of former meadow with one and a half miles of fence. We added water to the upland pasture by developing a small spring and including a trough. The riparian pasture is now grazed once a year in May and rested for the remainder of the year to allow planted willows and perennial grasses grazing rest to re-establish.
The RCD also secured funding from California Wildlife Conservation Board, NRCS, and USFWS to place grade-control structures in the creek and to plant willows and trees along the banks. There was about 90 feet of elevation fall in the 1.5 miles of stream, so it was not possible to put a structure at each foot of elevation like we did in Witcher Creek. Instead, a combination of Hesco Geotech fabric-lined baskets, juniper log weirs, and rock drop structures were all used to raise the stream. The baskets reduced the overall cost, as they made it possible to compact dirt in the lower ¾ of the basket so that more expensive rock was only needed on the top ¼ of the basket. A simple pre-made steel coil quickly spirals down to connect each basket together. These structures come together faster than making rock gabions, but have the disadvantage of an unnatural appearance and worked best when they were only stacked two high.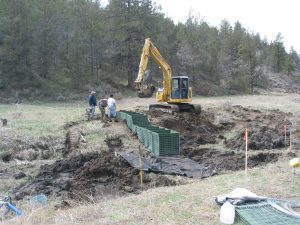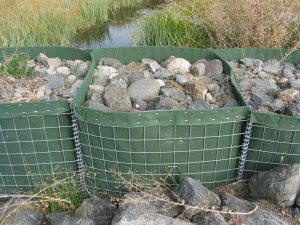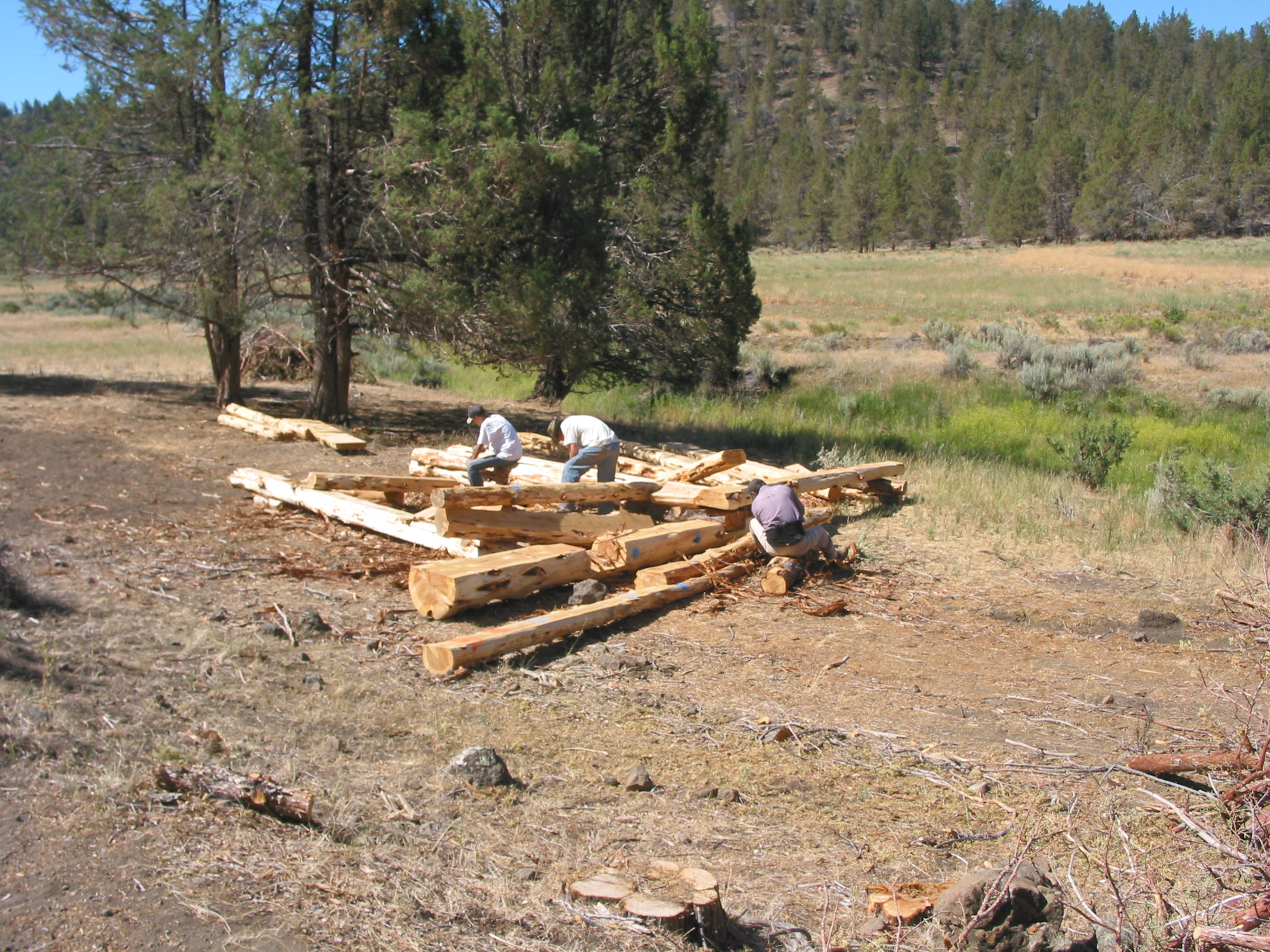 Now, cattails have moved into the sediment that the baskets trapped upstream and are slowly raising the stream, which will continue to re-establish the meadow across the valley.
Additionally, log weirs were constructed from western junipers that had invaded the dewatered meadow area. The material was cheap, but labor time to cut the trees down and construct the weirs added costs. The logs were debarked, notched, and preconstructed outside the creek. Then, we excavated where we wanted them to go before placing and backfilling the log structures. Of all the structures we added, these log weirs performed the best and required very little maintenance. Their use also reduced the number of invasive, water-hogging junipers along the creek. 
The rock drop structures required much rock to be hauled in, which was costly. After excavating an area of the stream, a fabric liner was placed against the dirt. Angular rock was placed and compacted with an excavator. Because of the large elevation difference between rock structures, some have had rocks slip downstream since they were installed.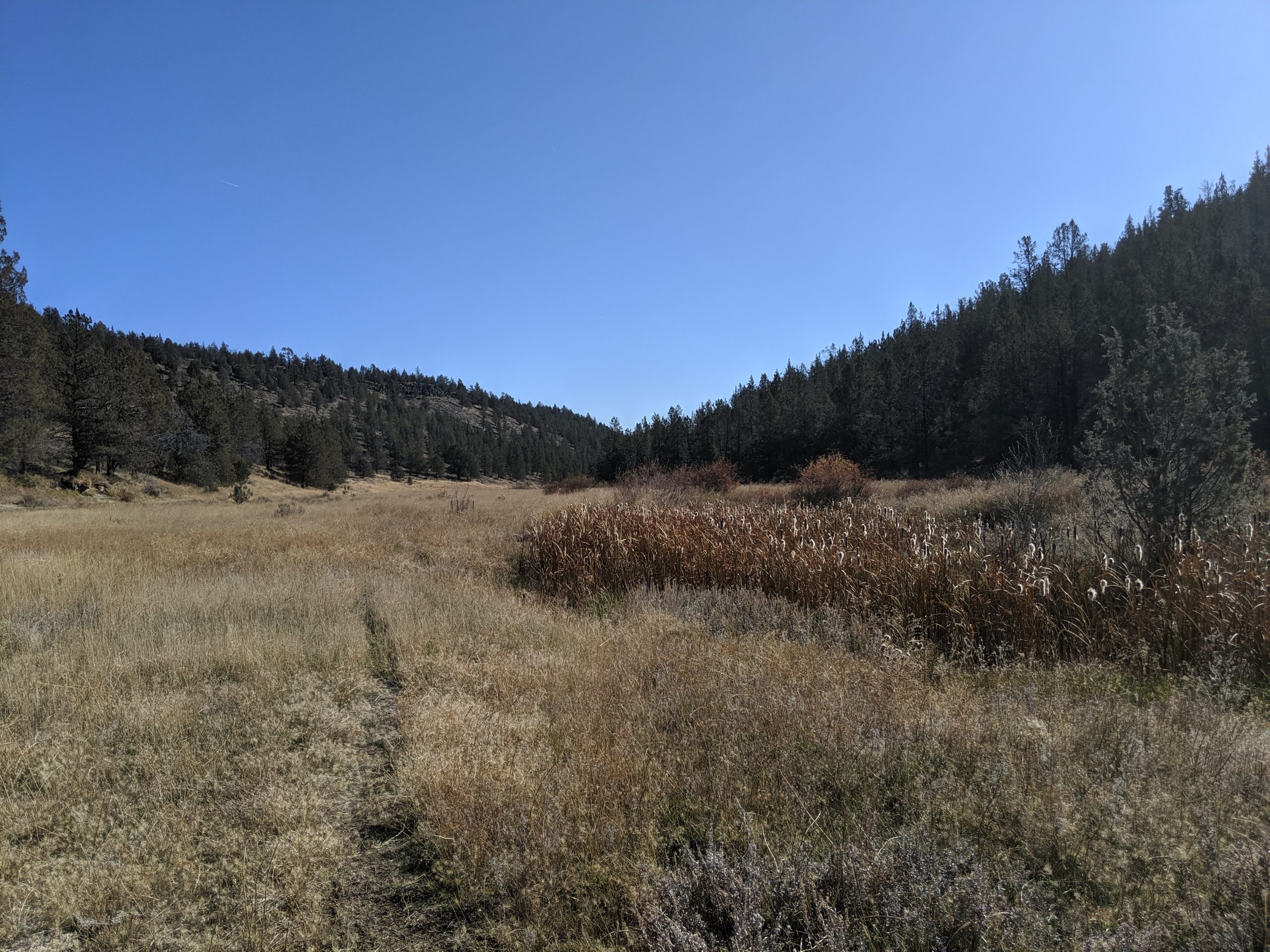 Putting Infrastructure Improvements to Work
Recognizing that water is the lifeblood of a cold desert environment, we obtained Environmental Quality Incentives Program (EQIP) funding from NRCS to replace over seven miles of an inefficient 1880s ditch irrigation system with more efficient underground pipelines.* These ultimately allowed the ranch to better cope with the 2014 and 2015 droughts. While we were excavating for the flood pipeline, we also placed 2.2 miles of a second pipe. With 78 feet of elevation fall, it provides pressurized water for the sprinkler irrigation, which eliminates the energy costs for pumping water out of the creek at the lower end of the ranch. In an effort to further conserve, we replaced the wheel line irrigation system with a more water-efficient pivot irrigation system, which reduced labor costs and increased hay production.  A two-inch pipe in the same trench as the flood pipe on the other side of the valley provides pressurized water to troughs to provide livestock water in upland pastures.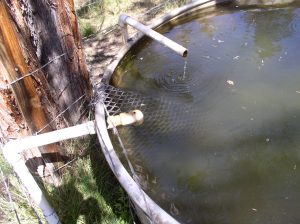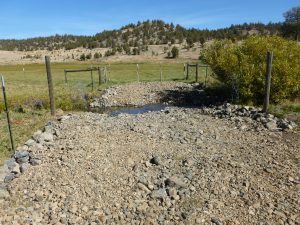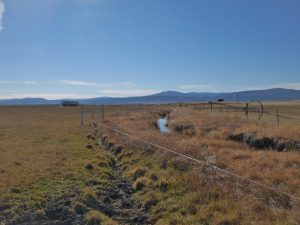 We also introduced strategic rotational grazing, which dramatically increased production and allowed for approximately 2.7 miles of three-wire electric high tensile fencing funded by NFWF to create riparian pastures and buffers strips that provide wildlife habitat and protect water quality. The riparian fencing also allowed us to further subdivide the pastures into smaller sections and increase the intensity of the grazing event and shorten the duration. We used NRCS CSP funding to further fence off grazing from the stream, moving to a single high-tensile fence as the three-wire design had large maintenance costs when deer got stuck in it during the winter.
Through NRCS CSP, we were also able to create watering sites away from creeks, install wildlife escape ramps in troughs, and reinforce cattle water gaps in the stream to protect water quality. 
This work proves that collaborative private land conservation and restoration projects can make a huge difference—both for wildlife and for the bottom line.
If you are more interested in more information, email us at naderranch44@gmail.com.
*Water 4 is focused on the vital role that flood-irrigated working wet meadows play in the SONEC ecosystem and works to ensure ranchers who want to stay in flood irrigation have the necessary support to modernize their irrigation infrastructure. At the same time, Water 4 recognizes that landowners have to make the decisions that best serve their operations. In certain situations with the right combination of other actions, a transition to sprinkler/pivot may be beneficial to both the operation and to overall landscape health.