What is Technical Transfer?
Technical ("tech") transfer is the process of transferring science, data, technology, best practices, and other technical information to end-users who influence land management. When done successfully, technical transfer expands awareness and integration of this information and facilitates adoption of practices that strengthen on-the-ground outcomes of management activities. 
Other Terms for Technical Transfer
Technical transfer is also referred to as extension, technology transfer, science-to-implementation, science-to-practice, science integration, and other similar terms.
Who Does Technical Transfer?
Many people with a variety of backgrounds have a place in technical transfer. Technical transfer can be done by university extension or faculty, dedicated technical transfer professionals, agency resource specialists or biologists, scientists, communications specialists, and anyone who supports others in using information in resource management. In many cases, it takes a team with complementary skill sets to effectively reach the intended audience.
Why is Technical Transfer Needed?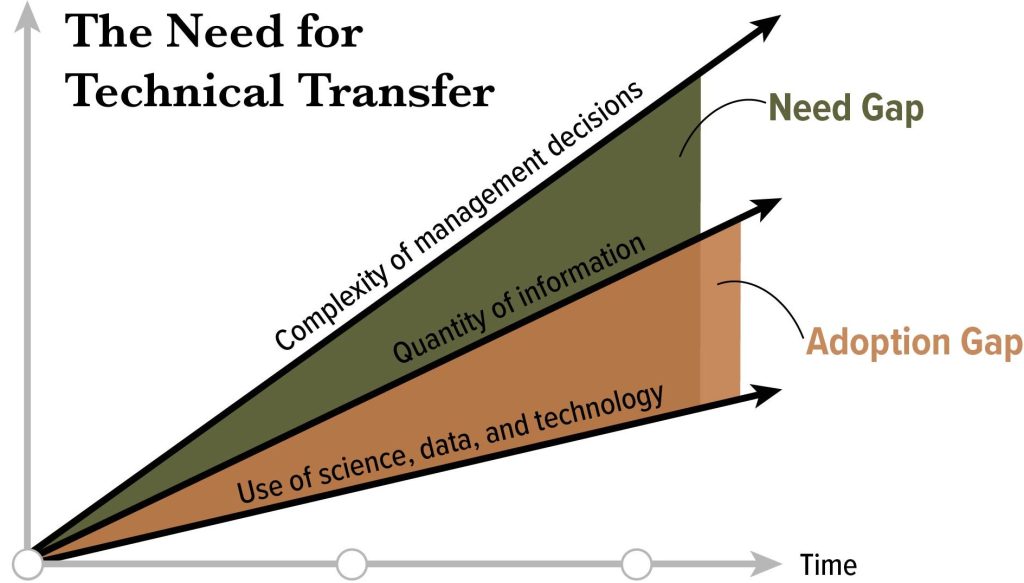 The rangeland profession has made great strides in producing applied science and developing datasets, maps, tools, and practices to support sagebrush ecosystem management. This information provides opportunities to use a wealth of powerful new data sources in decision-making. However, the adoption of these resources in rangeland management has lagged their development and many practitioners are challenged to access, interpret, integrate, or apply this information.