Wetland Loss in the Pacific Flyway: New Intermountain Insights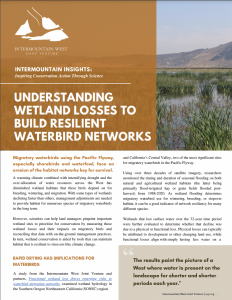 A study from the Intermountain West Joint Venture and partners, Functional wetland loss drives emerging risks to waterbird migration networks, identified trends of severe wetland drying in the Southern Oregon Northeastern California (SONEC) region and California's Central Valley, two of the most significant sites for migratory waterbirds in the Pacific Flyway.
The good news? Managers can use this information to make strategic conservation decisions that increase wetland resiliency throughout the flyway.
A new edition of our Intermountain Insights series dives into the eye-opening study results, as well as management implications for big-picture wetland conservation decision-making.