Klamath Basin Farming and Wetlands Coalesce in New RCPP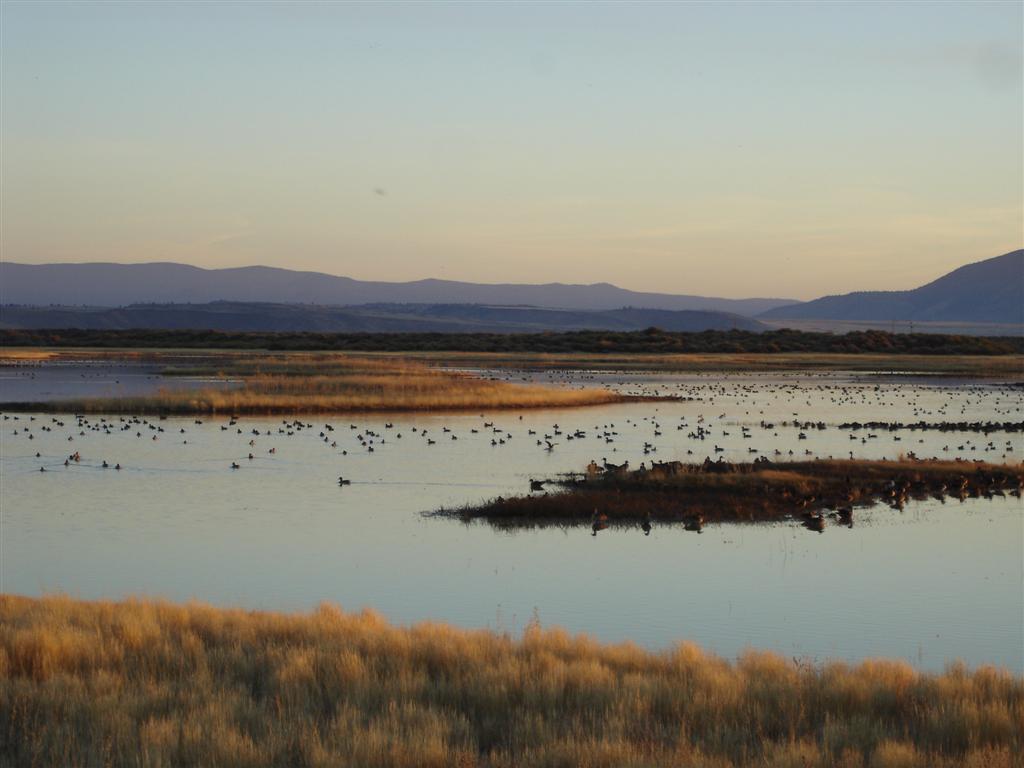 The U.S. Department of Agriculture (USDA) announced last week that it is investing $3.8 million in the Klamath Basin Farming and Wetland Collaborative project in the Klamath Basin through the Natural Resources Conservation Service (NRCS) Regional Conservation Partnership Program (RCPP). This investment will bring some much-needed relief to farmers and migratory birds over the next few years in a region in which agricultural water users and Klamath National Wildlife Refuge Complex (Refuge) managers are struggling with water availability at unprecedented low levels this spring and summer.
The Klamath Basin was once the crown jewel of the Southern Oregon Northeastern California (SONEC) region, supporting more than half of the birds that breed and migrate in the region. Sixty percent of the Pacific Flyway's wetland-dependent birds winter in California's Central Valley stage and refuel in SONEC on their annual migrations. Of the stopover sites they use, approximately 70 percent are on privately-owned agricultural lands. Historically, public lands like the Refuge provided a critical anchor of habitat for the birds as well, but the current drought and water scarcity have greatly limited wetland flooding on refuge lands. Today, private landowners are essential to sustaining the Flyway's migratory bird populations as water supplies dwindle throughout the Klamath Basin. Flood irrigation practices on historical floodplains and wetlands in SONEC and the Klamath Basin provide an under-appreciated habitat benefit that sustains continental populations of waterfowl, shorebirds, and waterbirds—more than 6 million wetland-dependent migratory birds—each year.
The recently awarded RCPP project recognizes the integral role of farmers and ranchers in sustaining these resources for birds, fish, wildlife, and communities. Ducks Unlimited (DU), the lead partner on the RCPP project, collaborated with the U.S. Fish and Wildlife Service's Partners for Fish and Wildlife ("Partners") Program and Intermountain West Joint Venture (IWJV) to devise an innovative proposal that will enhance wetland habitat on agricultural lands while building cooperation that could lead to a wider array of RCPP investments in the future. The RCPP project is grounded in the success of existing collaborative conservation efforts in the region, ranging from a previous SONEC Working Wet Meadows Initiative RCPP to the Refuge's Cooperative Farming Program.
"The Klamath Basin Farming and Wetland Collaborative RCPP is an essential strategic conservation tool recognizing the dependence of waterfowl on both wetlands and Klamath Basin working lands," said Jeff McCreary, the Western Region Operations Director for DU. "This innovative partnership brings together both wildlife and agricultural partners to support waterfowl in this critically important part of the Pacific Flyway." 
Conservationists recognize the need for more voluntary conservation programs to help farmers and ranchers maintain flood irrigation practices, restore riparian habitat, and sustain their communities. Over the past decade, more than 42,000 acres of flood-irrigated working wet meadow habitats have been conserved or enhanced in the SONEC region, demonstrating that agricultural and conservation stakeholders are committed to finding win-win solutions to complex natural resource concerns.
Of these voluntary conservation programs, few are as wide-reaching and powerful as RCPP. The funding program allows farmers, ranchers, and conservation partners to work in collaboration with NRCS and their partners to implement systems that conserve water and soil resources, improve the health of wildlife habitats, and increase climate resilience. Amelia Raquel, a biologist for DU, said that when DU and partners work on collaborative efforts, it contributes to multi-beneficial solutions for waterfowl and other resources in the Klamath  Basin.
 "The RCPP is a good example of one of these efforts in that it will improve habitat for waterfowl and other waterbirds while simultaneously contributing to agricultural sustainability," she said.
In SONEC and the Klamath Basin, the recently funded RCPP highlights the relationship between key flood irrigated agricultural lands and migratory bird habitat. In doing so, it helps prevent the unraveling of a connected complex of habitats that have sustained birds for millennia during the migration, breeding, and wintering periods of their life cycle. Sustained funding and ever-growing partnerships around these programs can increase the resilience of the irrigated wetland systems now relied on by migratory birds—and by local agricultural communities—and support ongoing efforts to address wetland habitat drying on the Tule Lake and Lower Klamath NWR.
"Meeting the annual life cycle needs of wetland birds in SONEC requires a whole-landscape conservation approach across public and private lands that recognizes the needs of agricultural producers and the valuable habitat they provide," said Joy Morris, IWJV's Water 4 Coordinator. 
The Klamath Basin Farming and Wetland Collaborative RCPP will offer land rental and incentive payments for landowners and agricultural producers to meet critical bird habitat requirements and food energy demands which have declined in the Basin for over two decades. A goal of this RCPP is to provide habitat for migratory birds in the short term, while long-term solutions continue developing. The program also provides multiple tools to help landowners who have prioritized wildlife habitat as part of their agricultural operations, as well as cost-share funding for flood irrigation infrastructure critical to sustaining bird habitat on private lands.
The RCPP will build on this foundation of community-focused conservation success that is gaining steam across the West. 
Dan Keppen, the executive director of the Family Farm Alliance, said his organization is a strong supporter of RCPP and considers all organizations involved with the Klamath Basin RCPP to be true partners in conservation. The Alliance represents farmers, ranchers, and irrigation districts in the 17 western states. 
"Supporting conservation actions on private lands helps provide important ecosystem services including clean water, groundwater recharge, and habitat for fish and wildlife," said Keppen, who has lived in the Klamath Basin for 20 years. "In turn, local communities benefit from agricultural productivity, making funding from collaborative, voluntary programs like RCPP critical to maintaining both ecological and socioeconomic function in SONEC and the Klamath Basin."